Stone, Edward
ED STONE


Born: Aug. 21 1910
Died: Mar. 20. 1983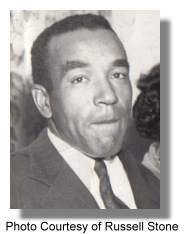 Outfielder
Wilmington Hornets 1930
Atlantic City Bacharach Giants 1931, 1933-34
Brooklyn Eagles 1935
Newark Eagles 1936-1940, 1942-43
Philadelphia Stars 1937, 1944-45
Mexican League 1941
New York Black Yankees 1943, 1950
Pittsburg Crawfords 1946
Jackie Robinson All Stars 1946
Ed Stone began his playing career in 1931 with the Bacharach Giants as a clean-up hitting outfielder. With the Brooklyn Eagles in 1935, he batted .323 and earned his first trip to the East West All Star game.
In 1936,
Effa Manley
consolidated the Brooklyn Eagles and the Newark Dodgers into the Newark Eagles. Ed was the starting right fielder and hit in the heart of the batting order, finishing with a .317 average.  In 1937, Ed batted .334 with a .590 slugging percentage.
Ed moved to the clean-up spot in 1938-39, batting behind Willie Wells and before Mule Suttles, finishing 1939 with a .363 batting average. Ed made his second All Star appearance in 1940, and went on to play in the Mexican leagues the following year.
He returned to play with the Philadelphia Stars and batted .300 and .298 in 1944-45.
He closed out his playing career with the New York Black Yankees in 1950, a full twenty years after he started his playing days.