Effa Manley
EFFA MANLEY
Born: March 27, 1900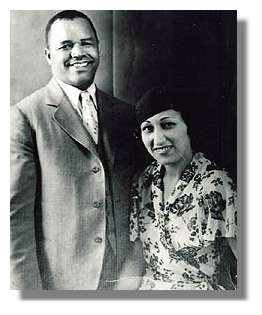 Died: April 16, 1981
Effa and her husband Abe Manley (shown in photo) started the Eagles team in Brooklyn in 1935, naming it after the local newspaper. The Eagles played in the Brooklyn Dodger's Ebbets Field. In 1936, they purchased the Newark Dodgers franchise and moved the Eagles to Newark.  Team management was left to Effa.
Manley was known as a players' advocate. She fought for better schedules, better travel and better salaries. Manley recognized that her team was a community resource. Said former Eagles star Max Manning: "The Eagles were to (black) Newark what the Dodgers were to Brooklyn."
According to Monte Irvin, Manley provided the Eagles with an air-conditioned, $15,000 Flexible Clipper bus, a first for the Negro Leagues. Worried about what her players would do for employment during the offseason, she and Abe sponsored a team in the Puerto Rican winter leagues.
Manley served as the treasurer of the Newark chapter of the National Association for the Advancement of Colored People (NAACP) and often used Eagles games to promote civic causes. In 1939, Manley held an "Anti-Lynching Day" at Ruppert Stadium.
Several stories about her have become part of Negro League folklore. One such tale is of her demanding that Terris McDuffie be the starting pitcher for a certain game because she wanted to show him off the women of her social club. Another had her giving signs to players by crossing and uncrossing her legs to signal bunts.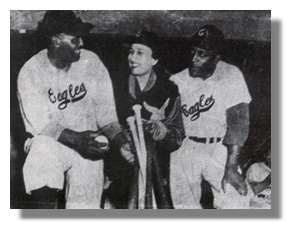 Under her management, the Newark Eagles won the Negro World Series in 1946, but soon after Jackie Robinson broke the color line in 1947, Manley lost the services of Larry Doby, Monte Irvin, and Don Newcombe. She spoke out against the raiding of Negro League teams by major league clubs without compensation, but despite her efforts, the Eagles had to disband in 1948.
The great baseball owner and manager of the Negro League team the Newark Eagles, Effa Manley died at the age of 81 on April 16, 1981. She was believed to be the last surviving owner of a franchise of a black baseball team. She was buried on Saturday, April 25, 1981, at the Holy Cross Cemetery in Culver City, CA. Her gravestone reads "She Loved Baseball."