Bowman, Emmett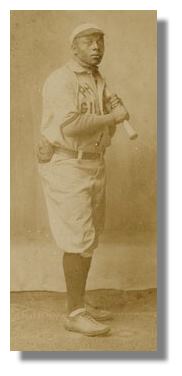 EMMETT BOWMAN
Circa 1903-06 cabinet photograph of Emmett Bowman of the Philadelphia Giants.
The Philadelphia Giants, led by Rube Foster and Sol White etc. were one of the great early black teams of the 20th century. Emmett Bowman was a key member of this team, and one of the better players of the early part of the century. Bowman pitched and played all positions, and is prominently featured in Sol White's 1907 guide
Photo credit to "Phillippi Studio (825 Arch St) of Phila."