Foster, Andrew - Rube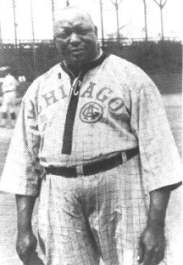 ANDREW RUBE FOSTER
Andrew (Rube) Foster was a great pitcher in his prime, but he is not generally remembered for his arm. Rube is the man that organized the first black baseball league, the Negro National League. Due to his great management, the league stayed together for many years.
His first year in baseball was spent as a pitcher in the Chicago Union Giants franchise. He finished the year with 51 victories including a win against the great pitcher, Rube Waddell (that's where Foster got his nickname). He continued his awesome pitching into the next year compiling a 54-1 record with the Cuban X-Giants. He joined the Philadelphia Giants squad the next year, winning 2 games in the playoffs against his former teammates. He began his managerial career with the Leland Giants in 1907 when Frank Leland hired Foster to play and manage with the team.
In 1910, following his brilliant playing career, he organized one of the best black teams in history, the Chicago American Giants. Players such as John Henry Lloyd, Pete Hill, and Home Run Johnson were on this team. Sometimes, even Foster himself played on the team as a pitcher. The American Giants absolutely demolished all other competition, winning an estimated 11 championships.
In 1920, Foster established the first formal Negro League, called the Negro National League. The league flourished for ten great years until his sudden death in 1930. Rube Foster was finally recognized for his priceless achievements when he was voted into the Baseball Hall of Fame in 1981.