Seattle Steelheads
SEATTLE STEELHEADS
On June 1, 1946, African American professional baseball debuts in Seattle. The Seattle Steelheads split a double header against the San Diego Tigers as part of the new West Coast Negro Baseball League. The game was delayed half an hour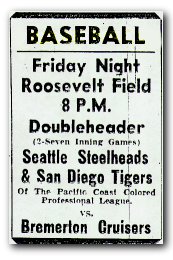 because the Seattle team's bus broke down in Salem, Oregon. The players took taxicabs to Seattle.
To gain local support they changed their name to the Seattle Steelhead, after the salmon runs. The "Steelies" were made up of players from Abe Saperstein's Harlem Globetrotters baseball team. Saperstein was the president of the new league.
Six teams, including the Los Angeles White Sox, the San Francisco Sea Lions, the Portland Rosebuds, and the Oakland Larks planned to play 110 games that season in stadiums of the Pacific Coast League while the home teams were on the road. The Seattle team also played for fans in Tacoma, Spokane, Bellingham, and Bremerton.
For the 1946 season, the teams were scheduled to play 110 games. Not only did they play in Seattle, but the Steelhead played games in Tacoma, Bremerton, Spokane, and Bellingham, to display professional black baseball to the region. As a result of manager/catcher Paul Hardy signing a contract before he was released by the Chicago American Giants, a ban against Negro American League teams playing in Seattle was instituted.
Unfortunately, the only teams that earned money to stay in business were Seattle and Oakland. As best that can be determined, when the League folded Oakland was in first and Seattle in second. The association ended in July of 1946, but the Steelheads played through September and once again became the Harlem Globetrotters.
Sources:
Lyle Kenai Wilson, Sunday Afternoons at Garfield Park: Seattle Black Baseball Teams, 1911-1951, (Everett: Lowell Printing, 1997), 81-82; The Seattle Times, June 2, 1946, p. 10.