Page Fence Giants
PAGE FENCE GIANTS
1894-1898
1894 - Bud Fowler managed, organized and played for Negro League teams after baseball's color line was drawn around the turn of the century. As a result of the color barrier, he founded the Page Fence Giants in the fall of 1894. The all-black team was sponsored by the Page Woven Wire Fence Company of Adrian, Michigan.
1895 - The team played their first game on April 9, 1895.  This photograph of the Page Fence Giants railroad touring car was taken 1 April 1895, shortly after private coach arrived in Adrian, Mich., from the New Jersey builders.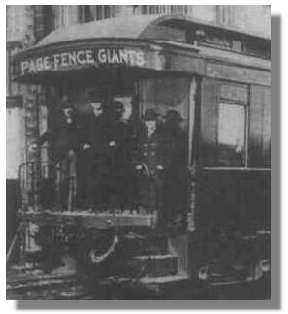 The sixty-foot-long, gilt-ornamented car was fitted with a lavatory, private manager's office, a state room, kitchen, and a combined dining, sitting, & sleeping room. Capable of sleeping twenty, the car sported leather seats and a Belgian carpet. The coach was staffed with a cook (who pitched in one game) and a porter-barber.
It not only advertised the team and its corporate sponsor but also helped the team avoid the problem of segregated public hotels and restaurants.
1896 -The Page Fence Giants and the Cuban Giants, the two most successful black teams of the day, play a 15-game series. The Page Fence Giants won 10 of the 15 games and the unofficial title of best team in black baseball.
1897-The Page Fence Giants win 82 consecutive games and finished with a 125-12 record.
1898 - The Page Fence Giants dissolved and most of the team's players moved to the Chicago Columbia Giants for the 1899 season.
Photo source: National Baseball Library & Archive, Cooperstown, N. Y