Newark Eagles
Newark Eagles
Play: 13 seasons, 1936-48

The Newark Eagles were incepted in 1936 when the Newark Dodgers merged with the Brooklyn Eagles. The Eagles sported the likes of Hall-of-Famers Larry Doby, Monte Irvin, Ray Dandridge, Leon Day, and Willie Wells.  The Eagles shared Ruppert Stadium with the Newark Bears, beginning in 1936.
The Newark Eagles had many standout players, but two entered the baseball history books: Larry Doby, the first black player in the American League (Cleveland Indians), and Don Newcombe, Brooklyn Dodgers rookie of the year, MVP and Cy Young award winner.
The Eagles were the first professional team owned and operated by a woman, Effa Manley. The 1946 team won the Negro World Series. Featuring the fierce double play combination of future Major Leaguers Doby (2B) and Monte Irvin (SS), they upset the Kansas City Monarchs in a 7-game series.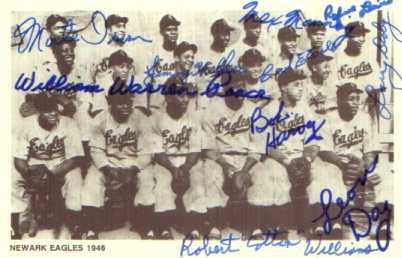 They featured the great battery of Biz" Mackey (C) and Leon Day (P). Another star infielder was Hall of Famer Ray Dandridge, who was quick as a cat while patrolling third base.