Kansas City Monarchs
Kansas City Monarchs
Play: 37 seasons, 1920-30, 1937-62 (league years only)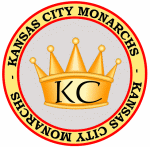 The longest running franchise in Negro League history is the Monarchs from Kansas City, Missouri. They were charter members of the Negro National League in 1920.
Winners of more than a dozen league championships, the Monarch name became the Negro League's answer to the New York Yankees. They won their first World Series title in 1924, defeating the Hilldale Giants, from Philadelphia, in a thrilling ten-game series. Some of black baseball's best players wore the Monarch uniform; Cool Papa Bell, Turkey Stearnes, Newt Allen, Jesse Williams, Bonnie Serrell, Wilber Rogan, and a fellow they called Skip, Buck O'Neil.
The Monarchs sent the most players into Major League Baseball after the color barrier was broken. Some players from this elite group were Jackie Robinson, Satchel Paige, Ernie Banks, Elston Howard, Hank Thompson and Willard "Home Run" Brown. The Monarchs were black baseball's glamour franchise.
Photo: Kansas City Monarchs, 1922