Cuban Giants
CUBAN GIANTS
DURATION: 1885-1899
HONORS: COLORED CHAMPIONS (1887-'88)
EASTERN CHAMPIONS ('94)
AFFILIATIONS: INDEPENDENT ('85-'88, '92-'99)
MIDDLE STATES LEAGUE ('89-'90)
CONNECTICUT STATE LEAGUE ('91)
The Cuban Giants began life in 1885 as a team that entertained guests at the Argyle Hotel in the resort town of Babylon, Long Island. Frank P. Thompson was the headwaiter at the Argyle, and Govern -- for many years a headwaiter in Philadelphia and Atlantic City -- was a business associate. In August 1885, Thompson, Govern, and C.S. Massey forged the Giants from the best of the Argyle Athletics, Washington Manhattans, and Philadelphia Orions. "Cos" Govern retained the role of manager.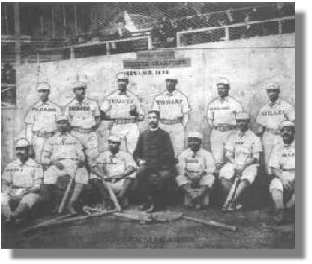 The Giants toured the South in the winter of 1885-86, staying active and generating revenue all year. They wound up in St. Augustine, the beachhead of original Florida land baron Henry Morrison Flagler. That very year Flagler had built the Hotel Ponce de León, the start of Florida's transformation from pesthole to playground, and the "Cubes" (thanks to the Thompson/Govern axis) were featured entertainers. In addition, the tour had a leg in Havana. Indeed, though it has not been confirmed, Govern may have taken the Manhattans to Cuba as early as 1881 or 1882. His Caribbean background could well have been the key to recognizing the nexus of commerce and culture in baseball throughout the region.
Govern led the best teams assembled during the first brief period when black pro baseball flowered. The Giants were Colored champs in 1887 and 1888, and in June 1887 they beat big-league teams in Cincinnati and Indianapolis. Cos must have had an eye for talent; he signed George Stovey, the premier black pitcher of the 19th century. It seems he was a good field manager too -- his teams were called well-balanced and crafty as well as physically gifted.
From "S.K. Govern, Black Baseball's Renaissance Man" by Rory Costello

Acknowledgment to the work of Jerry Malloy (1946-2000)


1887 Cuban Giants, Back row: George Parago; Ben Holmes; Shep Trusty; Arthur Thomas; George Williams; Miller. Front row: William T. Whyte; Clarence Williams; Abe Harrison; S. K Govern, manager, Ben Boyd; Jack Frye; Frank Allen.
Photo Credit-National Baseball Library & Archive

George Williams, captain and second baseman of the Original Cuban Giants

Stanislaus Kostka Govern (1854-1924),
manager of the Original Cuban Giants

William Whyte, pitcher, Original Cuban Giants

Clarence Williams, catcher, Original Cuban Giants

George Parago, pitcher, Original Cuban Giants

Arthur Thomas, catcher, Original Cuban Giants

William Malone, pitcher, Original Cuban Giants

Benjamin Boyd, center fielder, Original Cuban Giants

John Frye, first baseman, Original Cuban Giants

Harry Johnson, utility man, Original Cuban Giants