Cincinnati Tigers
CINCINNATI TIGERS
The Tigers were charter members of the Negro American League which was formed in 1937.Cincinnati native DeHart Hubbard, the first black to win a individual gold medal in the Olympics (long jump, 1924, Paris), founded the Cincinnati Tigers.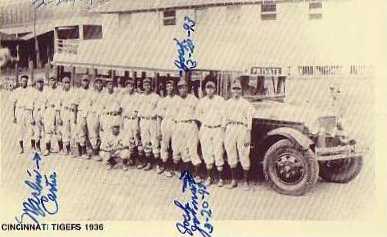 Many of the Tigers' games played at Crosley Field were more heavily attended than Reds games, with attendance from 10,000 to 15,000 per game.They were led by big-time manager Ted (Double Duty) Radcliffe and Cincinnati native pitchers Porter Moss (submarining right-hander), Jesse Houston (23-game winner) and Roy Partlow (16-year Negro Leaguer who was also a fine hitter — 1940 Puerto Rican Winter League batting champ, .443).
The team disbanded after its first season. The Tigers disperse, as several key players — including manager Radcliffe, Moss and star slugger Neil Robinson — hook on with the Memphis Red Sox, leading them to the NAL title.
PHOTO BELOW: 1936 CINCINNATI TIGERS
Rear: P. Moss, P. Bradley, N. Robinson, W. Jefferson, E. Beemer, M. Carter, batboy, Davenport
Front: O. Taylor, H. Easterling, BIBBS, Radcliffe, S. Harris, J. Houston, J. Johnson
source:
http://www.indstate.edu/athletics/Fame/HOFfeb1998.html