Chicago Union Giants
CHICAGO UNION GIANTS
1901-1904

The Chicago Union Giants were originally founded in 1887 by partners Frank Leland and W. S. Peters. Each man then operated a Chicago Giants team under his own name. In 1901, Frank Leland combined the Chicago Unions and the Colmbia Giants to form the Chicago Union Giants. In 1905, they became the Leland Giants.
In 1917, Peters sold his team to former player Robert P. Gilkerson. As the Gilkerson Union Giants, the team toured Wisconsin and the upper Midwest every summer, playing local teams, primarily in small towns. The Gilkerson Union Giants remained one of the best and most famous barnstorming African-American teams in the region through the late 1930s.
The Gilkerson Union Giants caused a sensation wherever they played. They were considered so good that beating them made the season for local teams.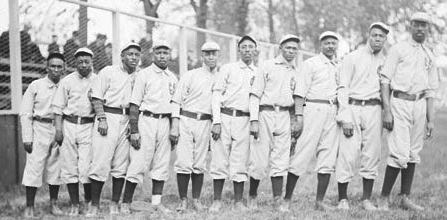 This photo taken by a Chicago Daily News photographer may have been published in the newspaper. Group portrait of Chicago Union Giants, African American baseball team, standing in a line near the fence of a ballpark in Chicago, Illinois, 1905.  SDN-002974, Chicago Daily News negatives collection, Chicago Historical Society.