Buffalo
886-1888 Buffalo International League

Photo: Frank Grant, second baseman, for Buffalo, International League Team, 1886-88.
The International League, the oldest minor league in existance, was founded in 1883 as the Interstate League, either the second or the fourth minor league formed, depending on the definition. It was reorganized as the Eastern League in 1884 and took the name International League in 1913.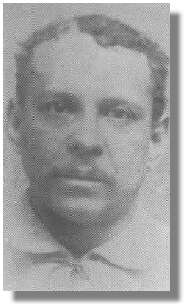 1886 Buffalo: Negro second baseman Frank Grant, secured from Meriden, Conn. in midseason, perhaps the greatest black player of the last century. His strong hitting (.344) and acrobatic fielding helped Buffalo to a plus-.500 season and a fifth-place finish.
The most accomplished black baseball player of the 19th century, he became the first Negro to play on the same team in organized baseball for three consecutive seasons.
1887: The 1887 season was the high-water mark for Negro players in the International League. Buffalo had its nonpareil second baseman, Frank Grant. There were several other Negro players in the league, but the two who stood out, in addition to Grant, were pitchers George Stovey of Newark (34-15) and Robert Higgins of Syracuse (19-8), both lefthanders.
1888: The 1887 season had been marked by frequent evidences of antagonism (by players) against the Negroes in the league. Anti-Black sentiment increased in 1888 and there was a strong movement to bar all Negro players. The Buffalo club, possibly because of Grant, strongly opposed such a move and offered a compromise (never acted on) which would permit each team to carry two Negro players.
This was Grant's last year with Buffalo and his last in organized baseball. Even though he had a good year, his play no doubt felt the effects of the rampant racial pressure. He batted .331 and hit 11 home runs; but his fielding deteriorated badly (possibly because opposing players slid into him at second base with spikes high at every opportunity), and he finished the season in right field.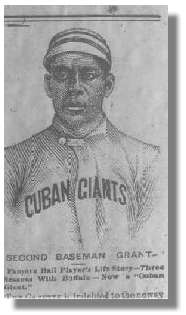 Frank Grant from a 21 September 1889 Cleveland Gazetteportrait. Caption: 'Grant had played ably for Buffalo of the International League from 1886 through 1889, until discouraged by persistent racial hostility and contract disputes.'