Wyatt, John
JOHN WYATT
Born: April 19, 1935
Died: April 6, 1998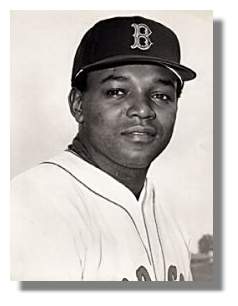 After playing for the Indianapolis Clowns,Wyatt went on to have a nine-year career in the American League,
Wyatt saved 70 games in four years as the ace of the woeful A's bullpen (1962-65).
In 1964, his All-Star year, he led the AL with 81 appearances, then a Major League record. He was traded to the Red Sox in mid-1966, where he had another great year as Boston's stopper.
In 1967, he played an important part in their "Impossible Dream" pennant with a 10-7, 20-save season. In Game Six of the World Series he let the Cardinals tie the score, but when the Red Sox rallied for four runs in the bottom of the seventh he became the fourth black pitcher to get a World Series victory.