Wilson, Johnny Sr.
JOHNNY WILSON Sr.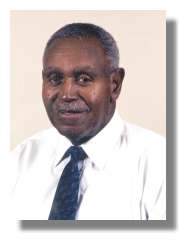 Johnny Wilson Sr. played baseball for the 1949 Chicago American Giants. He also played basketball for the Harlem Globetrotters (1949-54).
He earned induction into the Indiana Basketball Hall of Fame, the Anderson Black Expo Basketball Hall of Fame, and the Anderson University Hall of Fame.
He spent 20 years as a coach and Athletics Director at Malcolm X College in Chicago, Ill., compiling an impressive 378-135 (.737) record on the court. In ten years of high school coaching he recorded an equally remarkable overall mark of 139-59 (.702).