Wilson, Ernest, Judson, Boojum
ERNEST JUDSON ' BOOJUM'  WILSON
Born: Feb. 28, 1899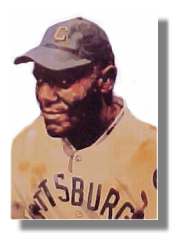 Died: June 26, 1963                                                            

Jud's career spanned from 1922 to 1945.  He played all infield positions, and even played some outfield and managed.
1922-1930 - Baltimore Black Sox

1931-1932 - Homestead Grays

1932 - Pittsburg Crawfords

1933-1939 - Philadelphia Stars

1940-1945 - Homestead Grays
Wilson was feared as a hitter and was known for his willingness to fight, any time, anywhere. In John Holway's Blackball Stars, Wilson's best friend, Jake Stephens, claimed, "The minute he saw an umpire, he became a maniac." A story in which Jud broke up a knife fight in the showers is also recounted. Several versions of a tale involving Wilson dangling Stephens out of a window by the ankles many stories about the sidewalk have made their way down through the years.
Jud got his nickname "Boojum" because that was the noise his line drives made when they hit the outfield walls. Satchel Paige claimed that Jud and Chino Smith were the two toughest outs he ever faced.
While records are sketchy, Wilson had one of the best batting averages in the Negro Leagues, and he also hit for power.  His lifetime statistics in the Negro Leagues show a batting average of .345.
Wilson was one of the best hitters in baseball history. He led the league in hitting with a .373 average in the 1923 season, and went on to post a lifetime average in the Negro Leagues of .345. Wilson also recorded the highest lifetime average in the Cuban Winter Leagues, .372 for six seasons, including batting titles of .403 in '25-'26 and .441 in '27-8 playing for Havana.
Wilson was a star on four championship teams in a six year period between 1929 and 1934 (the '29 Baltimore Black Sox, the '31 Homestead Grays, the '32 Crawfords, and the '34 Phila Stars.) Satchel Paige considered him one to be one of the top two hitters he ever faced in the Negro Leagues (which is not surprising as Wilson hit .375 lifetime against Paige.)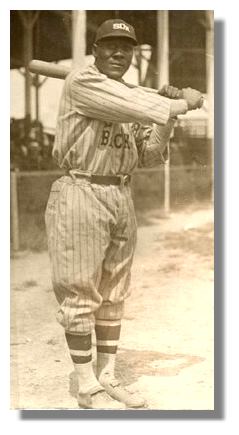 In the photo at the right, Jud Wilson is in his Baltimore Black Sox uniform in 1923, the first year of the Eastern Colored League.  This photo originates from the archives of the Baltimore Afro-American.