Torrienti, Cristobal - Carlos
CRISTOBAL 'CARLOS' TORRIENTI
Born: 1895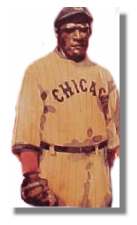 Died: 1938
A big, good natured lefty known as the "Cuban Strongman," Cristobal Torrienti was a walking ballclub. He is widely believed to have been the best right fielder in the Negro Laegues, blessed with sure hands, the speed to get under any drive, and a rifle-like arm. He was also an excellent 2nd baseman, amazingly good at 3rd for a southpaw, and a winning pitcher with a record of 15-5. To top it off, Torri was one of the finest hitters in any league.
Cristobal, a notorious "bad ball" hitter, had control to spray the ball to all fields, but best remembered for his power swing. Playing for the Chicago American Giants, he regularly hit line drives over 400-foot mark on the centerfield wall. Shortstop Bob Williams recalled that when the Giants visited Kansas City, Torri hit a line drive that cracked a clock 17 feet over the centerfield fence and "the hands just started goin' 'round and "round" In 1920, while Cristobal was in Cuba with the Havana Reds, the New York Giants came to town, bringing with them none other than Babe Ruth. In one game, Torrienti homered in his first two at bats, and came up for the third time with two men on base. Ruth, who'd been a top-notch starting pitcher in Boston, trotted in from right field and demanded to pitch to him. Torri promptly stroked a two-run double off Ruth and although Babe then struck out three in a row, he was back in the outfield next inning. Later, Torri slugged his third homer of the game. Back in the U.S., his clutch home run won the deciding game of the 1921 Negro Leagues World Series for the Chicago American Giants.
In a carreer that spanned 1913 to 1934, Torrienti earned a .339 average against black pitching, .311 against white Major Leaguers, and the respect of everyone who watched him play.