Simmons, Silas
SILAS SIMMONS
Born: Oct 13, 1895
Died: Oct 29, 2006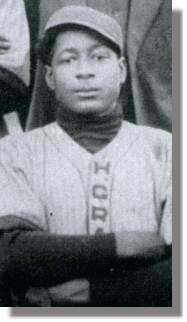 Sourced from sptimes.com
Humbly, a baseball legend turns 111
Silas Simmons might not tell you, but his secret is out: He's the oldest former professional baseball player of all time.
By DAVE SCHEIBER, Times Staff Writer
Published October 13, 2006
ST. PETERSBURG — The gentle, soft-spoken man living at Westminster Suncoast retirement community rarely talked about his baseball past.
All his caregivers knew was that he loved to watch ball games on the little color television in the corner of his two-person room. Every so often, Silas Simmons mentioned that he once played ball as a young man in Philadelphia.
To them, he was just Si, a popular resident who has seen life unfold in three centuries, the recipient of a letter from President Bill Clinton when he turned 100 in 1995 and from President Bush last year, marking his 110th birthday.
But all that changed one day this summer.
Simmons had a visitor: Dr. Layton Revel, the founder of the Center for Negro League Baseball Research.
"I know you grew up in the Philadelphia area and there were a lot of good ballplayers there," Revel said. "There was a Si Simmons that played ball back then.''

"Well,'' Simmons replied in a voice strained and raspy from the years, "that was me.''

Revel showed Simmons a stack of old professional team photos, including a sepia-toned print of the 1913 Homestead Grays. It was filled with three rows of African-American players and coaches from an era predating the Negro Leagues by almost a decade.
Simmons studied the photo, picked out a few players.
Then he pointed to a young man with a roundish face, his arms crossed, looking back at the camera with a confident visage.
"That's me,'' he said. "Right there.''

Living anonymously in a St. Petersburg rest home for seven years was a link to a long-ago time in baseball history — a man who competed from 1912 to 1929 at the highest level then available to a black ballplayer, against some of the greatest Negro League players.
Revel returned to his home near Dallas determined to honor him.
So today, when Silas Simmons turns 111, about 30 former Negro Leaguers from around Florida are expected, part of a tribute organized by Revel. They will come to meet and share memories with someone born the same year as Babe Ruth, who now holds one mark that could stand for the ages:
The oldest former professional baseball player of all time.
***
He was born Oct. 14, 1895. And that puts Simmons in the rare company of "super-centenarians" in the United States.
According to the latest rankings from Gerontology Research Group, updated Oct. 4, Simmons is the fifth-oldest male in the United States, the 17th-oldest person in the country —116-year-old Lizzie Bolden of Tennessee is No. 1 — and the 56th-oldest person in the world, again with Bolden atop that list.
He was born before the first Olympic Games of modern times, before Henry Ford's first automobile was built and before the first American motion picture appeared in theaters.
Simmons came to the attention of Revel and fellow researchers on a tip from Massachussetts genealogist Dave Lambert. Until then, the professional baseball player known to have lived the longest was former New York Yankees pitcher Chet Hoff, who died in 1998 at the age of 107.
Now, Simmons is basking in more attention than he ever had as a player.
"Everybody's treating me so nice,'' he said this week. "I'm excited about it all.''

Simmons was profiled in the St. Petersburg Times in August. Last month the New York Times featured Simmons on its front page, creating a wave of national publicity for the veteran of all baseball veterans.
Today, only a week after the death of Negro League ambassador Buck O'Neil at 94, Simmons will be honored in grand fashion. There will be a plaque from the Society for American Baseball Research and the Legends of the Game Museum certifying that he is the oldest living man ever to have played pro baseball.
The Tampa Bay Devil Rays' Steve Henderson will present Simmons with a Rays jersey with No. 111 stitched beneath his name on the back. Ebbets Field Flannels, a vintage uniform company, has recreated his 1913 Grays uniform as a gift.
And the Center for Negro League Baseball Research will give Simmons a plaque honoring his career from 1912 to 1929, when he played for such teams as the Blue Ribbons of Germantown, the New York Lincoln Giants of the Eastern Colored League and the Cuban Stars.
"I don't know much about the man, because he came from out of the blue, but I admire him and it's wonderful,'' said Hall of Famer Monte Irvin, 87, of Homosassa, a star with the New York Giants and the star-studded Newark Eagles of the Negro Leagues in the 1940s.
Irvin says he can't make it to the celebration because of recent back surgery. But he's delighted that Simmons has surfaced for the world to know. "It's great that he's going to be recognized.''

***
Long ago, recognition was often confined to the brief mentions and buried box scores in the pre-World War I sports pages of the Philadelphia Inquirer.
"Si Simmons was at his best in the morning game. Good boy, Si, you are a prime favorite in Germantown,'' reads a line in a Blue Ribbon game recap from a victory on Sept. 15, 1915. In a 12-0 win on June 26, 1915, the write-up reads, "Simmons in form. … This boy fanned 16 of the Broad Street Station's Men.''

Simmons, who stood 5-foot-10, earned $10 per game while making extra cash working jobs from messenger to shoemaker. He played on the same team as Hall of Famer Pop Lloyd and against Hall of Fame catcher Biz Mackey and third baseman Judy Johnson. "They called him the black Pie Traynor,'' says Simmons.
He attended major league games whenever he could. "I saw Babe Ruth, Ty Cobb, Tris Speaker, all the greats. It only cost a quarter.''

During World War I, Simmons loaded gunpowder bound for Europe to help U.S. troops fight Germany. He and his wife, Mary Smith, his childhood sweetheart, had five children. In 1929, at age 34, he left the game behind.
He worked as a porter and spent World War II loading live ammunition onto ships for the troops once again. Later, he was an assistant manager in Rosenbaum's department store in New Jersey.
He watched the game evolve and got to know black pioneer Jackie Robinson. "I met Jackie at a dinner before he made history with the Dodgers,'' Simmons said. "What a nice man he was.''

Smith's marriage ended after 29 years when his wife died. He eventually fell in love again, marrying Rebecca Jones.
They moved to St. Petersburg to retire in 1971. Seven years ago, after 40 years of marriage, she died and Simmons moved into Westminster, where his kind and thoughtful demeanor made him an instant hit.
"When he came here, we really didn't know a lot about him,'' said Westminster activities coordinator Janice Lambe.
"And then he said he played some ball, and that was cool. But he really didn't talk about it. His own grandson didn't even know he was so involved.
"He liked it when he'd get to go to Devil Rays games over the last few years with his church group. And if the games on TV stayed on until 2 a.m, he was up watching it. We just never knew. He's a very modest man.''

But Revel's visit this summer opened a dusty window onto Simmons' baseball past.
"He needs an agent,'' said interim Westminster administrator Ray Reiss with a laugh. "Si is the most amazing senior citizen I've seen in 32 years. He can see and hear and converse intelligently and he doesn't seem to have any real limitations.''

Simmons, who drove a car well past his 100th birthday, is president of the residents' council, listening to problems and finding solutions with the staff.
He reads his Bible regularly and is an avid newspaper reader, clipping out stories to refer back to them later. He still pays his own bills.
Simmons has outlived his five children, but revels in being a grandfather of nine and great-grandfather many times over.
He has always tried to live by a simple rule.
"You have to be nice to people,'' he said.
"These ballplayers today, they might say, 'Don't bother me,' if a young kid asks for an autograph. But these kids help fill the ballpark and are the ballplayers of tomorrow. I could never brush anybody off. I've always believed you treat people nice, and they'll treat you nice.''

Spoken like a pro who, after fading into baseball's sepia-toned past nearly a century ago, suddenly finds himself back in the old ball game.
Dave Scheiber can be reached at scheiber@sptimes.com or 727-893-8541