Radcliffe, Ed - Double Duty
TED 'DOUBLE DUTY' RADCLIFFE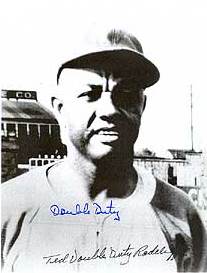 Born: July 7, 1902, Mobile, AL
Died: August 11, 2005, Chicago, IL
Ted was born July 7, 1902 in Mobile, Alabama. "Nicknamed "Double Duty" because he would pitch the first game of a double header and catch the second game, Radcliffe was one of the most colorful players in black baseball.
Ted Radcliffe earned his nickname by performing as both catcher and pitcher. New York sportswriter Damon Runyan applied the title "Double Duty" after watching Radcliffe catch the first game of a double-header and pitch the second game. It is fitting that Double Duty appeared in six East-West All-Star games - three as pitcher and three as catcher.
He was truly unique and never received the full credit due him for his contributions to baseball. In three consecutive years he played on three of the greatest teams in black baseball history, first with the St. Louis Stars of 1930, then with the Homestead Grays of 1931, and finally with the Pittsburgh Crawfords of 1932.
His "double duty" produced impressive numbers for those seasons, including batting averages of .283, .298, and .325 and corresponding pitching records of 10-2, 9-5, and 19-8. With the Stars he was the regular catcher for the first half of the season, but when the pitching staff wore thin, he stepped in and proved to be one of the top hurlers on their championship squad.
The 1931 Grays, featuring Josh Gibson, Oscar Charleston, Jud Wilson, and Smokey Joe Williams, is the team that Radcliffe selects as the all-time best. He appeared in six East-West All-Star games, dividing them equally as a catcher and pitcher, batting .308, and winning his only decision in All-Star competition. In the 1944 game, with his mother in the stands, he contributed a crucial home run to the West squad's 7-4 victory.