Pennington, Art - Superman
ART "Superman" PENNINGTON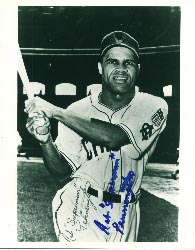 Born on May 18, 1923 in Memphis, Tenn, Pennington first began playing ball with his father, who taught him how to switch-hit.
The change allowed him to develop his bat-handling skills at a young age, making him a Negro League standout by age 23.
He played for the Chicago American Giants (1940-46), Pittsburgh Crawfords (1946), Mexican League (1946-50) and then toiled in the minors from 1951 to 1959. He once hit a homer off of Dizzy Dean in an exhibition game.