Paige, Satchel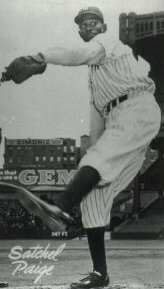 LEROY 'SATCHEL' PAIGE
Born: July 7, 1906, in Mobile, Alabama
Died: June 8, 1982 , in Kansas City, Missouri
One of the greatest pitchers of all time!

Played for at least eight Negro League teams 1926-50;
Cleveland Indians 1948-49;
St. Louis Browns 1951-53;
Kansas City Athletics 1965:
Elected to Major League Baseball Hall of Fame in 1971;
Pitched three innings in 1965 at age 59.
A legend after two decades in the Negro Leagues, pitcher Satchel Paige signed with the Cleveland Indians in 1948. At age 42, this "veteran-rookie" helped his team win the American League pennant.