Jones, Robert - Fox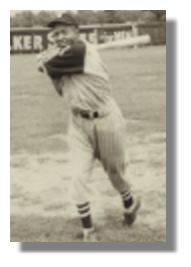 ROBERT LEO 'FOX' JONES, Sr.

Photos courtesy of Luverdia Green
Born: April 22, 1915 - Forrest City, Arkansas
Died: March 10, 1992
During his Negro League and Semipro career, Fox played 2B, 3B, and all outfield positions.
Fox Jones played for the Memphis Red Sox in 1932, 1933 and 1934, and the Cleveland Red Sox in 1934.  In 1946, Fox played infield for the Brooklyn Brown Dodgers.
He was inducted into the Amateur Hall Of Fame in St Louis, Mo. in 1983.