Herrera, Juan - Pancho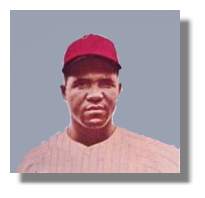 JUAN 'PANCHO' HERRERA
Born: June 16, 1934 in Santiago De Cuba, Cuba
Died: April 28, 2005 in Miami, Fla.
Pancho started his baseball career with the Havana Giants, a farm club for the Kansas City Monarchs.
The Monarchs sold his contract to the major-league Phillies in 1954.  He played several years in the minors, then made to the majors in 1958.
In 1960 the 6'3" 220-lb Cuban set a NL record for a 154-game season by striking out 136 times. He led NL first basemen in assists and tied for the lead in errors that year.