Henry, Joe - Prince Joe
'PRINCE JOE' HENRY
Exclusive only on NLBPA.com!

Read Joe Henry's letter to the Major League Baseball Assistance Team.  You'll get a better understanding of his position and his passion!

*Click here to read Joe's letter. 


*Note - you need Adobe Acrobat to read this document.
Memphis Red Sox 1950-52 (NAL)
Indianapolis Clowns 1955 (NAL)
Indianapolis Clowns 1955-56 (IND)
Detroit Clowns 1957-58 (IND)
Detroit Clowns 1958 (NAL)
Detroit Stars 1958-59 (NAL)
Detroit Clowns 1959 (w/ Goose Tatum, IND)
Injuries put an end to a two-plus-season stint holding down second base for the Memphis Red Sox in the early 1950's, but Henry resurfaced in 1955 with the storied Indianapolis Clowns franchise. Henry's showmanship at third base during two seasons in Indianapolis, a team that counts home-run king Henry Aaron among its alumni and is often compared to basketball's Harlem Globetrotters, earned him the nickname "Prince Joe." After sitting out 1957, Prince Joe was coaxed back to the diamond by Detroit Stars owner Ted Rasberry, who renamed his team "Goose Tatum's Detroit Clowns" after the famous Globetrotter and Negro League phenom.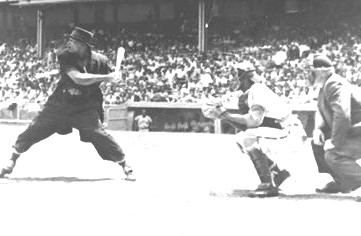 In the hot summer heat, Joe Henry dons tails and top hat to entertain the fans. He painted his shoes red and sometimes turned his back to the pitcher during the windup.
Recalling his days in the league he said, "As I look back, it was the best experience I ever had in my life... the Negro Leagues took me to just about every state in the country and Canada. I had an offer from Goose Tatum to go with him to Europe, but it was across the water and I didn't like to fly.