Griggs, Bennie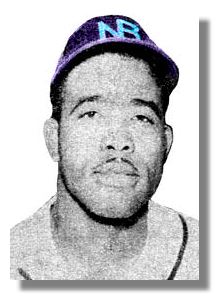 Bennie Lenton Griggs
Born : August 28, 1928, Birmingham, Alabama
Died : November 18,2006, Birmingham, Alabama
Batted: Right. Threw : Right.
Height : 5.11 Weight : 200
Baseball was in the Griggs' family. His brothers, Acie and Wiley, had played with the Birmingham Black Barons and other clubs in the Negro Leagues. In the late 40s Bennie had competed in industrial leagues around his home town of Birmingham, Alabama and with the Chattanooga Choo Choos and New Orleans Creoles.
Bennie Griggs went on to play in Canada in 1949 as a 20-year-old righthander with the Bentley's Delisle Gems. Obviously, he did more than mound work as Griggs proved to be adept at the plate as well. In 1950 he was the fourth best hitter in the Saskatoon and District League with a .352 batting average.
After his two seasons in Canada, he was drafted into the US Army and spent 1951 and 1952 in Korea and was wounded in action. He was awarded a Purple Heart.
Upon his return from service duties, Griggs came back to Western Canada to join the Saskatoon Gems of the Saskatchewan League and continued his success tying for the league lead in wins, with 9, and leading all pitchers in strikeouts with 92. He had six playoff starts and tossed five complete games including a pair of shutouts.