Greason, William - Bill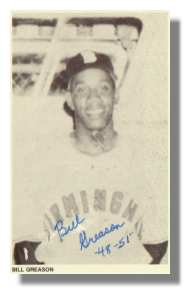 WILLIAM 'BILL' GREASON
Born: Sept 3, 1924
Bill played as a right handed pitcher from 1948 to 1951 for the Nashville Black Vols, Asheville Blues and Birmingham Black Barons. Bill also played baseball in Mexico, Cuba and Puerto Rico.
He made it to the Major Leagues in 1954 appearing in 3 games with the St. Louis Cardinals.
Upon retiring from baseball, Bill went on to become a minister and is now known as Reverend Greason.