Gilliam, Jim - Junior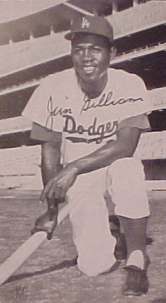 JIM 'JUNIOR' GILLIAM
1928-1978
Junior was the youngest member of the Baltimore Elite Giants.  Gilliam and shortstop Pee Wee Butts formed one of the great double play combos in Negro National League history during the 1940s. He was named to the Negro NL East All-Star team three straight years (1948-50).
Finally signed by the Dodgers and sent to Montreal, Gilliam twice led the International League in runs scored (117 in 1951, and 111 in 1952). He also led in fielding in 1952, convincing the Dodgers to shuttle Jackie Robinson between second base and third base and Gilliam between the infield and outfield to get him into the lineup.
As Dodger second baseman in 1953, Gilliam set a league rookie record with 100 walks, led the NL with 17 triples, scored a career-high 125 runs, and was named Rookie of the Year. He switch-hit homers in the 1953 World Series. In 1956, 1957, and 1959, Gilliam finished second to Willie Mays in stolen bases. He scored at least 100 runs in each of his first four seasons, and hit .300 for the only time in 1956.
Gilliam became a fan favorite in the Dodgers' first season in Los Angeles (1958) by leading the club in hits, doubles, steals, walks, and fielding. Switched to third base, he homered in the second 1959 All-Star Game.
Gilliam coached until his sudden death of a brain hemorrhage just before the start of the 1978 World Series. The Dodgers retired his uniform number '19.'