Ferrell, Leroy - Toots
LEROY 'TOOTS' FERRELL
Deceased: October 11, 2002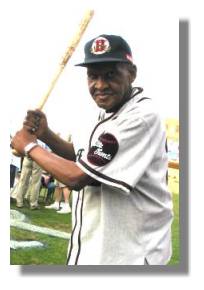 Howard Leroy (Toots) Ferrell was born on Chestertown on Maryland's eastern shore in 1929 and he began playing baseball professionally as a right handed pitcher in 1946.
Toots, as he is affectionately known, joined the Newark Eagles of the Negro National League in 1947 at age 17 and pitched to a record of 5 wins and 3 losses.  On the Eagles, Toots was a teammate of three future Hall-of-Famers; Monte Irvin, Larry Doby, and Leon Day.
In 1948, Toots was traded to the Baltimore Elite Giants and went on to win 9 games while losing only 2.  In 1949, Toots went 10-2 as the Elites won the Eastern Division title and went on to sweep the Western Division champion Chicago American Giants in four straight games to capture the Negro League title.
Toots was an Army veteran during the Korean conflict.  While in the Army, he injured his shoulder while playing in an Army League football game.  This injury was the undoing of his baseball career.
Toots has been inducted to the Delaware Afro-American Hall of Fame (1999) and the Delaware Sports Hall of Fame (2000).
Content Source: Greg Truitt
Photo: Bert Orlitzky