Easter, Luke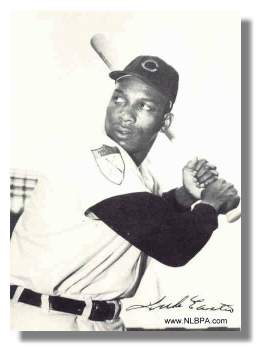 LUKE EASTER
Born August 4, 1915 in Jonestown, MS
Died March 29, 1979 in Euclid, OH
Luke Easter, outfielder of the Homestead Grays, Negro National League's last (1948) pennant winner before joining the Cleveland Indians on the power house team which also featured Blacks Lary Doby and Satchel page.
The 6'4" 240-lb Negro League veteran was 34 when the Indians promoted him from the minors. In 1950, they thought so highly of the lefthanded hitter that they traded Mickey Vernon, a once and future AL batting champ, making Easter their everyday first baseman.
He hit 28 home runs as a rookie; one, a 477-foot shot, is considered the longest ever hit at Cleveland Municipal Stadium. In 1952, he hit 31 homers (his ML career high), one less than the AL leader, teammate Larry Doby; however, Easter's 7.1 HR percentage topped the AL. He continued playing Triple-A ball into his late forties. In 1979, working for TRW Inc. as a chief union steward, he was shot to death by holdup men.
OBITUARY FROM: The New York Times (March 30th 1979) ~
By The United Press International

CLEVELAND, Ohio, March 30

Luscious (Luke) Easter, a former Cleveland Indian first baseman and  one of the first blacks to break into major league baseball, was shot and killed today by two men who robbed him of more than $5,000 outside a bank in suburban Euclid, Ohio.
The two men accused of killing Easter were caught after a high-speed chase and shootout with police. They face aggravated murder and aggravated robbery charges. Easter, a powerful home run hitter, played for the Indians from 1949 to 1954 and was a star of the old American Negro League.
Easter, who was 63 years old although baseball records showed his age as 57, was chief steward for the Aircraft Workers Alliance at TRW Inc. in Euclid, where he had worked for about fifteen years. He was accosted by the suspects in a parking lot outside a Cleveland Trust Company branch in a shopping center at East 360th Street and Euclid Avenue. He had just cashed payroll checks for his company totaling $5,000.
He was shot in the chest with a sawed-off shotgun and a .38-caliber revolver and was dead on arrival at Euclid General Hospital. Easter, born Aug. 4, 1918, in St. Louis, hit what is believed to have been the longest home run at Cleveland's Municipal Stadium. The shot was estimated at 477 feet into the upper right-field stands on June 27, 1950.
The 6-foot-4-inch, 240-pound slugger batted left-handed and in six seasons with the Indians, batted .274, with 93 homers and 340 runs batted in. His best seasons were from 1950 to 1953 when he hit 28, 27 and 31 home runs, respectively.
Before joining the Indians in 1949, and while playing in the Negro League, Easter once hit a home run into the center-field bleachers at the Polo Grounds in New York, a 475-foot blast. Only two other players, Joe Adcock and Lou Brock, duplicated that feat.
After his time with Cleveland, Easter played three years with the old
Buffalo Bisons of the International League and six seasons with the Rochester Red Wings of the same league, retiring in 1964.
"He was one of the most popular players in Red Wing history," said Bob Drew, the Red Wing general manager.  "He wouldn't leave the ballpark until the fans were gone."