Doyle, Joseph S.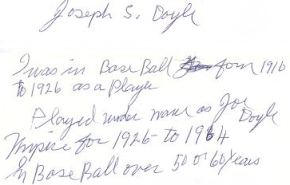 JOSEPH S. DOYLE
Joe played for numerous semipro and minor-league teams from 1910 to 1916.
He played at the Negro major league level for the Atlanta Black Crackers from 1916 to 1926.
After his playing he career, Joe umpired Negro League games from 1926 to 1964.
This man contributed 50 years to black baseball!