Cohen, James C. - Fireball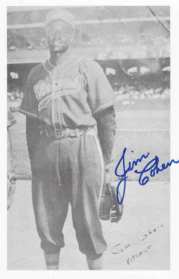 JAMES C. 'FIREBALL' COHEN
Died: April 23, 2002
From 1946 through 1952, Mr. Cohen pitched for the Indianapolis Clowns, where he was known as "Fireball" Cohen for his fastball.
In 1948, he played on the West team in the Negro League's annual East-West all-star game. He played winter baseball in Venezuela in 1948 and 1949. During his last season in Indianapolis, Mr. Cohen was a teammate of a rookie named Hank Aaron.
On retiring from baseball, Mr. Cohen moved to Washington, where he began his 35-year career as a postal clerk. A DC resident, he was born in Evergreen, Ala., and grew up in Pennsylvania.
Before World War II, he was a professional boxer. During the war, he was a sergeant in an Army Special Services unit, where he played baseball. It was during this period that he was noticed by baseball scouts of the Negro League, who recruited him to play after the war.
After retiring from the Postal Service, Mr. Cohen traveled about the country promoting the history of Negro League baseball. He was a member of the Negro League Baseball Players Association and in 1994 was among nine veterans of Negro League baseball to be honored by Vice President Al Gore during a White House visit.