Campanella, Roy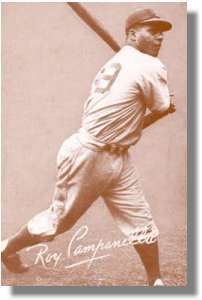 ROY CAMPANELLA
Born: November 19, 1921
Died: June 26, 1993
A star with both the bat and glove, Roy Campanella was agile behind the plate, had a rifle arm and was an expert handler of pitchers.
He was named National League MVP three times, including a 1953 selection when he set single-season records for catchers with 41 homers and an National League best 142 RBI.
Before signing with the Dodgers, the broad-shouldered receiver starred with the Negro Leagues' Baltimore Elite Giants for almost a decade. His career was cut short by a tragic auto accident prior to the 1958 season.