Butts, Tom - Pee Wee
THOMAS 'PEE WEE' BUTTS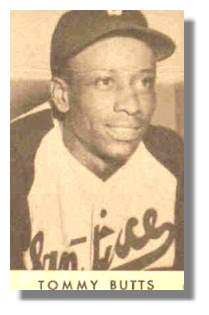 Born: 1919, Sparta, Ga.
Died: Jan 1973, Atlanta, Ga.
The 5'9" 145-lb Pee Wee Butts was one of the best shortstops in Negro League baseball of the 1940s.
Lauded for his sure hands, exceptional range, and strong throwing arm, he combined with Baltimore Elite Giants teammate Junior Gilliam to form one of the great double play combinations in Negro League history, and Butts is credited with making the young Gilliam into a good infielder.
Butts lacked power as a hitter but sprayed the ball to all fields, ringing up consistently high averages.
He batted .308, .309, .287, and .321 in 1944-1947 (the only years of his career for which confirmed statistics exist) and was the Negro National League batting champion in 1940 with an unconfirmed .391 average. He appeared in six Negro League all-star games, starting five of them.
Career:
Atlanta Black Crackers - 1938
Indianapolis ABC's - 1939
Baltimore Elite Giants - 1939-42, 1944-51
Mexican League - 1943
Birmingham Black Barons - 1952-53
Memphis Red Sox - 1954