Brown, Willard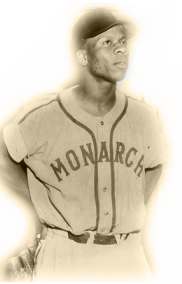 WILLARD BROWN
Born: June 26, 1915, in Shreveport, La.
Died: August 4, 1996, in Houston, Tex.
Batted: Right Threw: Right Height: 5'11 1/2" Weight: 195 lbs.
In July 1947 the St. Louis Browns were the worst team in major league baseball. In hopes of improving their fortunes, the Browns purchased the contracts of Henry Thompson and Willard Brown from the Negro League Kansas City Monarchs.  The St. Louis Gazette-Democrat called the move "an eyebrow-lifting experiment." Thompson and Brown became the first black teammates in the major leagues.  The move provoked a mixed response in a city many considered part of the South.
Brown, 36 at the time, lasted 21 games with the St. Louis Browns and was released after batting .179. He became the first black American Leaguer to hit a home run during his short stay with the last-place team. He returned to the Negro League and batted .374 with 18 homers in 1948 and .317 in 1949, ending his Negro League career with a .355 batting average.

Willard Brown had already spent a legendary career as one of the best players in the Negro Leagues. A powerful and fast slugger with a 40-ounce bat, Brown had grown up in Shreveport, Louisiana and had once been the Monarchs' spring training bat boy. He played his first games for the Monarchs in 1935.
Willard Brown let his bat speak for him in the winter following his release from the Browns. In the Puerto Rican Winter League, Brown hit 27 home runs while winning the league's Triple Crown. He won the Negro American League batting title in 1951 with a .417 average.  In 22 years of professional baseball, Willard Brown hit for a combined average of .305 including .352 in the Negro Leagues.
February 27, 2006 - Willard Brown Elected to Hall of Fame
COOPERSTOWN, NY: A committee of 12 Negro and pre-Negro leagues baseball historians elected 17 candidates to the National Baseball Hall of Fame today in Tampa, Fla., featuring 12 players and five executives. The 17 electees will be honored in Cooperstown, New York, during Induction Ceremonies on July 30, 2006