Brewer, Chester - Chet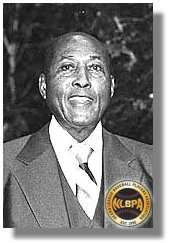 CHESTER A. BREWER
Source: Des Moines Register, 4/01/84, Ron Maly
Chester Arthur Brewer -- better known as Chet -- threw smoke, and often pitched against the legendary Satchel Paige. But his timing was all wrong. Unlike Paige, Jackie Robinson and other black men who were pioneers in organized baseball, he was never able to play in the major leagues.
However, Brewer says he has no regrets.
"I couldn't have been the Jackie Robinson of big league baseball," he explains. "I wouldn't have been able to take the insults he did, and would have been kicked out of baseball."
But today Chet Brewer isn't being kicked out of anything. Instead, the man who managed Robinson in a Los Angeles winter league in 1945 is becoming the 104th member of The Des Moines Sunday Register's Iowa Sports Hall of fame. In 1966 he was named to the Mexican Baseball Hall of Fame.
There are those who say Brewer was as talented a pitcher as the more famous Paige. Old-timers say Brewer was equal to Satchel in ability.
In his days in the old black leagues, Brewer faced Paige on the mound often.
"Sometimes he won, sometimes I won," Brewer says. "But it was always a scuffle. None of the rest of us got any publicity when Satchel was there because he got it all. But I beat everyone he did." "