Bowens, Sam
S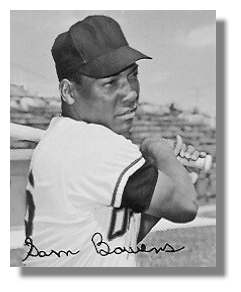 AM BOWENS
Born: March 23, 1929
Died: March 28, 2003
An alumnus (one of the last) of the Negro League players (1957-58 Nashville Giants), Bowens went on to play seven seasons as an outfielder in the major leagues.
His major league career included stops with the Orioles (1963-67) and the Senators (1968-69). Bowens' best season came in 1964 when he hit 22 home runs and drove in 71 runs for the Orioles. He batted .263 in 501 at-bats. In his career, Bowens hit 45 home runs and drove in 143 runs.

After his strong effort in 1964, Bowens' hitting ability began to slide. He later said it was the result of a beaning in 1965.