Benson, Gene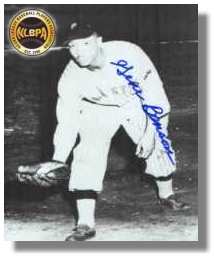 GENE BENSON

Born:Oct. 2, 1913
Died: April 6, 1999
Gene was an outstanding outfielder for several Negro League teams but played most of his career for the Philadelphia Stars.
Gene was a member of the Negro League East-West All-Star team in 1940, 1945 and 1946.
He made his debut with the Philadelphia Stars in 1937 before being traded to the Pittsburgh Crawfords in 1938. He returned to the Stars a year later, playing with the Negro National League team into the late 1940s.
There is no question that Mr. Benson was among the best players of his era. He hit .327 in 1944, .370 in 1945, and .345 in 1946. His lifetime batting average was .330.
In 1945, Mr. Benson was Robinson's roommate on a winter-ball tour of South America. Less than two years later, in the spring of 1947, Robinson became the first black man to play major league baseball when he was brought up by the Brooklyn Dodgers.
Robinson was hand-picked by Dodgers president Branch Rickey, who had signed him out of the Negro Leagues in 1945. A less well-known part of the story is that Mr. Benson, who was past his prime, helped the younger Robinson get ready to deal with the pressure.
``Every day he'd ask me why they picked him . . . It was because of his education,'' Mr. Benson said in 1995. ``They figured he would be better able to take the abuse.''
Robinson, who was educated at UCLA, ``didn't feel confident'' about his ability to face the challenges of playing for the Dodgers, Chapman said. ``He was doubting himself.
``My dad said to him, `Well, Jackie, where you're going it's a lot easier than where you're coming from.' ''
Mr. Benson never made much money playing pro ball. Even in 1944, he made just $200 a month.
``You played baseball because you loved the game,'' he said in a 1984 interview. ``You didn't worry about money, you didn't worry about segregation. We didn't worry because we didn't have any thought of being big-leaguers.''
Born in Pittsburgh, Mr. Benson spent his early childhood in West Virginia before his family moved to Philadelphia. He graduated from West Philadelphia High School.
Few people know that he was gifted musically - he played the violin and piano. Mr. Benson worked for the Philadelphia School District in its transportation department for about 20 years before retiring in 1979.