Bankhead, Dan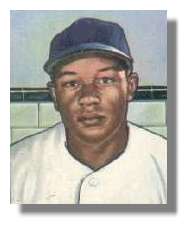 DAN BANKHEAD
Dan Bankhead, of Empire, Alabama, was one of five brothers that played professional baseball in the Negro Leagues. He signed his first baseball contract with the Birmingham Black Barons in 1940. By 1947, he was a dominating pitcher for the Memphis Red Sox of the Negro American League often compared to fireballer Bob Feller. He also was an outstanding hitter boasting a .385 average that season.
Branch Rickey, in sore need of solid pitching for his Brooklyn Dodgers, purchased Bankhead's contract from Memphis in late August.  On August 26, 1947, the 6'1" right-hander took the mound in the second inning against the Pittsburgh Pirates. Unfortunately, Bankhead was hit hard yielding 10 hits in three innnings. He salvaged some of his pride at the plate, though.  Bankead smacked a home run in his first major league at bat becoming the only National League pitcher ever to do so at the time.
Dan Bankhead appeared in three more games before the Dodgers sent him down to the minor leagues. He was called back to the major leagues in 1950 and pitched in a total of 52 major league games.  He continued to play pro baseball in Canada and Mexico through 1965.  He died in May, 1976 in Houston, Texas.