Armstead, Jimmie
JIMMIE ARMSTEAD, JR.
Reprinted with permission from Communications and Marketing, University of Louisville Magazine, Winter 2002
James "Jimmie" Armstead will never forget his first game as a professional baseball player.
The year was 1938 and the Central High School grad was a student at Louisville Municipal College (LMC), the African-American school run by University of Louisville before the university opened to black students in 1951. A star tailback on LMC's football team and a starting guard on the basketball squad, the gifted athlete was spending his summer break with the Indianapolis ABCs in the Negro Baseball League.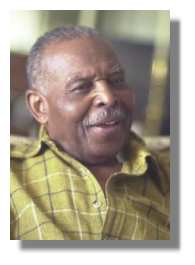 In his first game, the rookie stepped to the plate against the Homestead Grays, who were led by Negro League Hall of Fame catcher Josh Gibson Sr.
"We were playing in Washington (D.C.) where the Senators used to play," Armstead smiles, leaning back on the couch in his Louisville condominium. The fit 84-year-old looks like he could still beat out an infield single today.
"I came up to bat and Gibson just kept talking to me. I mean, he just wouldn't stop talking and talking and talking.
"Well, I struck out five times that day," he shakes his head and laughs. "That night, the coach came up to me and said, 'Quit listening to these guys. They setting you up.' "
That would be the last time the Louisville native, who grew up on the West Side near 16th Street, would be intimidated--by anyone. The feisty outfielder with sneaky speed and a sweet left-handed swing would prove that the following year when he and his teammates took their bats down to Nashville to try their luck against one Robert LeRoy "Satchel" Paige.
"He didn't know who I was," Armstead says of the legendary pitcher who was touring with his own all-star team at the time. "So he started me off with a pitch low and inside and I hit it out of the ballpark--out off the icehouse over right field. Guys were laughing and pouring out of the dugout.
"Satchel was looking at right field and saying, 'Where'd this guy come from?' I really lit 'em up that day. I really set Satchel on fire."
Owens and Tatum
Despite his baseball prowess, Armstead, who attended LMC in 1938 and 1939, claims football was his best sport. His star role on LMC's team backs that claim.
"My running was deceiving," he says. "I could run a hundred yards in better than 10 seconds, but I had a long stride. A lot of players would ask me, 'How fast can you run?' They couldn't catch up with me, but they felt like they should."
His speed even earned him an opportunity to run against Jesse Owens after the 1936 Olympics. Owens, who was part owner of the Negro League Baseball team the Toledo Crawfords, "would have exhibitions against college athletes and baseball players," Armstead says. Players would race Owens around the baseball diamond.
"They were fixed races, though," Armstead adds with a grin. "I mean, they wouldn't let you go all out. He wanted you to stay with him until he got to third base and then you could run as hard as you want. But you didn't have a chance by then.
"Also, he would only circle the bases. We had to touch all the bases. That was a lot different."
After winning three Gold Medals and seriously irking Adolf Hitler in the '36 Olympics, Owens was already a living legend when Armstead met him in the late 1930s. At about the same time, Armstead befriended a future sports legend, Reece "Goose" Tatum, who had come up from Arkansas to play baseball for the Louisville Black Colonels in 1938.
Goose, who went on to be one of the founding members of the world-famous Harlem Globetrotters, would never play basketball that year in Louisville, Armstead recalls, but he obviously was preparing for something.
"There were rec leagues everywhere and you could always find a game in the parks," he says. "Goose would come to any game he could find. But he'd never play. He would just sit there and watch, just watching and watching and watching.
"I was surprised when I saw him with the Globetrotters and saw the way he could handle that ball. He handled it like it was a little baseball."
Yankee Stadium by day, Long Island by night
After college, Jimmie Armstead became a full-time professional baseball player. He enjoyed a sparkling career between 1938 and 1951, batting an estimated .300 with good power and speed while playing for such classic Negro League teams as the St. Louis Stars, Baltimore Elite Giants, the Philadelphia Stars and even a brief stint with the Louisville Buckeyes.
His career was interrupted during World War II when he trained to be a pilot at the famous Tuskegee Army Airfield in Alabama. While he never became one of the legendary black fighter pilots of the 99th Pursuit Squadron, he did work as a radio operator for pilot training up and down the East Coast.
After the war it was back to baseball.
"To tell you the truth, I really don't know how many games I played," Armstead says. "We played every day. That's what made the money. Sometimes we'd play two games in the same day in different places. We'd play in Yankee Stadium in the afternoon and then go to Long Island and play a night game."
There were also times when his team would finish a game in New York and then jump on a bus and drive all the way down to New Orleans for a game the next day.
"Those were some long trips," he says.
Armstead played mostly right and center field throughout his career, but he would occasionally pitch. He even formed a battery with the great catcher Roy Campanella, who would go on to play nine years with the Brooklyn Dodgers after Jackie Robinson broke the Major League Baseball color barrier.
"We were just young kids," Armstead says. "We would be the second string battery so the team could save their first-string pitcher for the big games. I would pitch against factory teams and semi-pro teams."
The last time Armstead pitched was in 1947 against a touring Jackie Robinson all-star team.
"I knew most of the players and could handle them very well. I enjoyed pitching."
Armstead retired from baseball in 1951 and moved to New York with his wife, Edna, his high school sweetheart who had a good job as a nurse in Manhattan. Living in Westchester County, he commuted to Manhattan every day and worked as a mason. He worked on several famous projects, including Madison Square Garden, before retiring in the mid-1990s.
Last year, he moved back to Louisville after Edna died. They were married 60 years.