November 17, 2004
Sourced From riverfronttimes.com with authors permission.
Originally published by Riverfront Times Nov 17, 2004
©2004 New Times, Inc. All rights reserved.
Prince Joe's Lament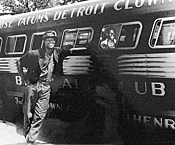 Photo courtesy of Joe Henry. A league of his own: "Prince Joe" Henry with the Detroit Clowns circa 1958
Where was Joe Henry when Major League Baseball coughed up money for ex-Negro Leaguers? In the dark.
BY MIKE SEELY
Joe Henry rises promptly at six o'clock every morning. His arthritis, as he puts it, "don't wake up till noon."

A native of Brooklyn, Illinois, Henry lives just where he has for the past three decades: in a fourteen-by-sixty-five-foot Windsor mobile home (vintage 1975) on North Seventh Street, a short walk from Route 3 and the smattering of adult-entertainment establishments that serve as the downtrodden town's (population 600) lone economic engine.

Until 1991, the rectangular residence was, in its owner's words, "quite fashionable." That was then. Ripped upholstery is now: Henry, 74 years old and retired, makes do on a fixed income of $16,839 per year, thanks to Social Security and a small retirement pension gleaned from his years as a shop steward.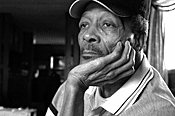 Four years and counting: Henry put in MLB's required four Negro League seasons -- but he hasn't seen the money
Photo By Jennifer Silverberg.
Clad in a white undershirt and jeans on a tattered couch in his dim living room, Henry, who suffers from diabetes and rheumatoid arthritis among other ailments, offers a brief assessment of Cardinals superstar Albert Pujols ("He's one bad-ass son of a gun"), then shuffles to his breakfast nook to pour himself a bowl of Quaker Oats. Prior to consumption, he pauses to recite a blessing:

Lord, help me if you can, to eat all that's in the poor man's pan
If there's any more left in the pot, please serve it to me while it's hot

Henry's day-to-day reality hasn't always been so stark. Strewn around this room are mementos from his days as an all-star infielder in the 1950s in baseball's Negro Leagues. Knee and arm injuries put an end to a two-plus-season stint holding down second base for the Memphis Red Sox at the dawn of the decade, but Henry resurfaced in 1955 with the storied Indianapolis Clowns franchise. Henry's showmanship at third base during two seasons in Indianapolis, a team that counts home-run king Henry Aaron among its alumni and is often compared to basketball's Harlem Globetrotters, earned him the nickname "Prince Joe." After sitting out 1957, Prince Joe was coaxed back to the diamond by Detroit Stars owner Ted Rasberry, who renamed his team "Goose Tatum's Detroit Clowns" after the famous Globetrotter and Negro League phenom.

"Joe Henry was a heck of a ballplayer," recalls Ollie Brantley, a teammate from Henry's Memphis years. "I thought for sure he was gonna get a shot to go play [in the majors]."

But like many black ballplayers of the 1950s, Henry didn't, for reasons no more complex than complexion. While Jackie Robinson's 1947 contract with the Brooklyn Dodgers signaled the end of the ban on black players in the major leagues, it did not usher in an immediate era of integrated baseball.

"Segregation and the color barrier didn't turn over at twelve o'clock midnight on April 15, 1947," says Negro League historian Larry Lester, referring to the day Dodgers general manager Branch Rickey signed Robinson. "It was a gradual transition. It took a couple decades to balance out in the minor-league and major-league levels. When Jackie Robinson retired [in 1956], there were still three teams without a black player."

That was the gist of Bob Mitchell's appeal to big-league commissioner Bud Selig's office after Major League Baseball in 1997 began paying $10,000 annual pension benefits to 69 ex-Negro Leaguers who played before Robinson broke the color barrier.

Mitchell, a Tampa resident who'd played for the Kansas City Monarchs during the 1950s, didn't get much of a response from the commissioner's office. Undeterred, he contacted U.S. Senator Bill Nelson of Florida, who enlisted the NAACP in the campaign.

The effort paid off: This past May 15, the Washington Post reported that Major League Baseball, in concert with its charitable arm, the Baseball Assistance Team (BAT), would administer approximately $1 million in monthly quasi-pension payments (totaling $10,000 annually over four years) to 27 former Negro League ballplayers who'd been excluded from the original group of 69 but had played in portions of four or more seasons before 1958.

The next day Joe Henry read a brief wire story in the Belleville News-Democrat and sent a letter to BAT executive director Jim Martin, noting that he met the stated criteria but had known nothing about the program before picking up that morning's paper. Soon afterward Martin sent Henry an application filled with questions about his Negro League tenure and current financial situation.

In a letter dated July 20, 2004, Martin rejected Henry's application. Though Major League Baseball had mentioned nothing about financial need with regard to the program, Martin noted that Henry's expenses (which he'd estimated on the form at $1,000 per month) didn't outstrip his monthly income of $1,403.

"For B.A.T. to provide assistance a financial need is required on behalf of the applicant," Martin wrote. "In reviewing your application, your income exceeds your expenses."

"He can't afford any expenses," scoffs Lester, who knows Henry personally. "A lot of ballplayers live like Joe does. I know what shirt they're gonna wear at the next reunion, because they only have one."

Henry persevered, sending Martin a five-page appeal restating his case for eligibility. A September 13 reply from BAT turned him down again, this time asserting that his playing career didn't meet the program's criteria.

Anthony Avitabile, MLB's director of industry risk management and financial reporting, says that since the mid-May announcement, the league has added players to the new plan, bringing the number of recipients to 32. Avitabile declines to disclose recipients' names, nor will he comment about individuals who were deemed ineligible for the program. But the Riverfront Times has interviewed ten ex-Negro Leaguers (including Bob Mitchell) who confirm that they are receiving monthly checks for $833.33 under the new program, as well as three former players who appear to meet the plan's criteria but aren't getting pension payments.

Along with Henry, fellow former Clown Clifford Layton, who played from 1951 through 1954, is not receiving any pension benefits. Nor is Don Johnson, who played from 1947 to 1952 with the Philadelphia Stars, Baltimore Elite Giants and Detroit Stars.

The three men have more in common than their outcast status. All live on fixed incomes at or below the poverty line. And none has ever kicked any money to Bob Mitchell's Communication Network of Negro League Players, the entity through which Mitchell solicits donations from ex-colleagues to defray costs associated with his ongoing efforts on their behalf.

Meanwhile, all but one of the players interviewed for this story who say they're receiving the new pension payments speak of Mitchell in glowing terms. The lone neutral party, Ollie Brantley, is also the only one of the group who hasn't contributed money to Mitchell.

"Ollie gave me his ass to kiss," Mitchell says of Brantley. "The [other] ones who are getting the money give it to me. They know that if I hadn't done what I'd done, nothing would have happened."

---------------------------------------------------------------------------

©2004 New Times, Inc. All rights reserved.