June 20, 2006
Sourced with permission from http://www.presstelegram.com/sports/ci_3956389
Long Beach, CA
Article Launched: 6/20/2006 12:00 AM
Remembering an era `Satch' looks back on Negro Leagues
By Doug Krikorian, Columnist
Inside SOCAL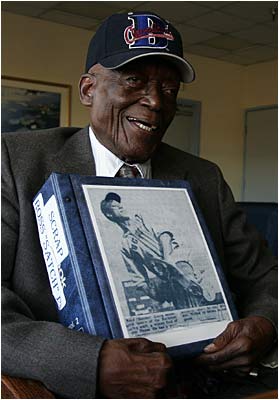 Ross "Satchel" Davis, 86, talks about pitching in the Negro Leagues in the 1940's. Davis has kept a scrap book with clippings from his days as a ball player. (Scott Smeltzer / For The Press-Telegram)
He is speaking of another time, when the pigmentation of his skin kept him from competing in the major leagues and kept him from being served in most restaurants and kept him from staying in most hotels and kept him frustrated with the cruel Jim Crow inequities that swirled in his midst.
He is speaking of another era, when he'd ride rickety buses throughout the South and Midwest and East and ply his trade in what was deemed the national pastime even though the major leagues were open only to Caucasians.
He is speaking of another generation, when the Negro Leagues were the only refuge for African-Americans with exceptional baseball skills and when teams like the Kansas City Monarchs and Pittsburgh Crawfords and Homestead Grays and Baltimore Elite Giants and Birmingham Black Barons and New York Black Yankees and New York Cubans and Newark Eagles and countless others performed against one another before large, enthusiastic crowds.
He is speaking of another epoch, as he reminisces fondly about iconic figures that he played against like Satchel Paige and Josh Gibson and Cool Papa Bell and Ray Dandridge and Buck Leonard as though he were talking about revered old pals.
"Satchel was the person who gave me my nickname," says Ross (Satch) Davis, an 87-year-old Long Beach resident who played during the 1940s for the Elite Giants and Black Yankees and Cleveland Buckeyes and Boston Blues. "Every year they'd pick an All-Star team from St. Louis, and Satchel was the pitcher. I was picked as one of the relief pitchers for him. I was warming up, and he came down to see who was relieving him, and I threw a fastball.
"He said, 'You're throwing peas." He meant the harder I threw it the smaller it got. I went out there, and the other team was acting like they were going to kill the ball with me pitching, and ol' Satchel said, 'Hey, that's my son out there. He throws harder than I do!" The reporters picked up on it, and I got the name 'Young Satch' and then just 'Satch."'
On a recent evening at Phil Trani's Restaurant, Ross Davis is sitting at the head of a dining table, a sweet, slender man fashionably attired in coat and tie whose recollection of events more than a half century ago is astounding.
"Pitched a no-hitter with the Elite Giants against the Newark Eagles in 1940, and Roy Campanella was my catcher," he says. "Monte Irvin (a Hall of Famer who later played with the New York Giants) was one of the Eagles' stars.
"I gave up only one home run during my career, and that came against Josh Gibson. I think that ball's still going. But I always found Buck Leonard to be a tougher out than Gibson.
"And no one was faster than Cool Papa Bell. He'd hit a routine grounder to short or second base and oftentimes would beat it out. He'd have stolen more than 100 bases every season had he been allowed to play in the majors."
I show Ross Davis the May-June edition of the Hall of Fame magazine, "Memories And Dreams" that is dedicated to the 17 players from the Negro Leagues that will inducted into Cooperstown this summer.
"Played against a lot of these fellows," says Davis as he leafs through the pages. "See this guy, (Ernest) Jud Wilson. Strongest person I ever played against. And (James Raleigh) Biz Mackey. Great, great defensive catcher. I think he played around 30 years."
Ross Davis speaks in a low voice, and there is an affability about him that is infectious and draws people to him like Nick Frankart, controller of Perkowitz+Ruth Architects who is seated next to Davis, and Twila and Bob Geraghty, who are in a booth nearby and live in Davis' apartment building.
"Ross is such a nice person, and his story is so fascinating," says Frankart, who has become a close friend of Davis and even had him speak at St. Cornelius, his son's school, a couple years ago.
Ross Davis soon will be departing Long Beach and relocating in Garwood, Texas, which is 90 miles north of Houston, in a guest house that will be furnished by a couple he met on the Internet.
"The lady's name is Melinda Ramsey, and she has taken a personal interest in Ross," says Frankart. "She calls him every night to make sure he's OK. Her husband owns a crop-dusting business."
Born in Greenville, Miss., Davis grew up in St. Louis where he played on the same sandlots that would produce Cool Papa Bell and Elston Howard.
He originally was an infielder on one of the St. Louis semi-pro teams, but became disgusted one afternoon when his team's starting pitcher was being violated by the opposition.
"I told my manager, 'I can do better than that,"' relates Davis with a laugh. "Well, you have to remember I had never pitched before, and didn't know a thing about the art. I just got on the mound, and threw as hard as I could, and kept striking people out. From then on, I was a pitcher."
Davis soon would become one of the top ones in the MUNY Industrial League in St. Louis, playing with the Scullin Steel club at Tandy Park.
In the league's East-West All-Star game in 1939, Davis, pitching for the West, walked the first three batters he faced, then struck out Luke Easter, Sam Jethroe and Jesse Askew.
He was so impressive that a Mexican League scout signed him to a $125 a month contract to play for the Mexico City team along with two other pitchers, Leroy Matlock and Theolic Smith, who also would go on to perform nobly in the Negro Leagues.
"That was a lot of money for someone who was only 21 years old," says Davis. "I drank and womanized too much, and the team released me after a few weeks even though I pitched well."
Davis soon would join Baltimore, and then the Black Yankees before hooking up with the Cleveland Buckeyes, for whom he had a 19-3 record in 1943.
Later that year, he would go into the Army and be a medic in the Phillipines where he would earn a Bronze Medal and where he saw a lot of mayhem he prefers not to discuss.
"Let's just say war isn't very pleasant," he says.
He would contract hepatitis in the service, and doctors told him it was doubtful he'd be able to pitch again after he spent six months in the hospital.
But he did.
He would go to work for the Boston Blues in 1946, and would wind up 18-3 with the highlights being a 2-1 win in St. Louis against the Memphis Red Sox and a 6-5 win over Satchel Paige in Rochester, N.Y.
He would return to Cleveland the next season, would go 5-1 and would hang up his cleats despite being only 29.
"There was a lot of stuff about the Negro Leagues that were a lot of fun, especially the games themselves and the fun you'd have on some of the barnstorming trips," he says. "But there was a lot about it that wasn't so glamorous. You often had to sleep in your bus because you couldn't find a hotel to stay in. Sometimes the bus would break down, and you'd have to do some long walking.
"It wasn't easy for us, especially in the South where the police could be pretty rough. We had a few scary confrontations, and more than once we had to grab our bats to protect ourselves against some people. There were a lot of things that happened that made you angry, but you just had to live with it and learn to survive. Those were different times then."
There is a murkiness about the Negro Leagues, as statistics weren't kept vigilantly and checks sometimes bounced and players routinely hopscotched from one to team another season after season.
"It wasn't an orderly process," admits Davis. "Many times on our long trips from, say, Kansas City to New York, we'd stop on the way and play all-star teams from small cities. They'd arrange with people in the black neighborhoods to take us in, a couple guys to a house, and one neighbor would cook for all of us."
Ross Davis would marry three times over the years, have a few children and would live for a long time in Cleveland and then Akron.
He would pursue various endeavors driving a cab, running a gas station, etc. but nothing would match the experience he had playing in the Negro Leagues.
"No doubt those seasons were some of the best times of my life," he says. "Of course, like I said, those also were hard years, and when it became a job rather than a game I quit. I can thank the good Lord that all that segregation we faced is past now. Still, I think I'd rather have played then because even with all we had to deal with, the game was only about the game. We didn't do all the posturing you see now. If we hit a home run, we'd run around the bases like we were trying to turn a single into a double, not stand there and look at the ball like some guys do now. We'd call that showboating, and that just wasn't done in our day.
"And it also was great because we brought the game to the people in small, poor towns who would have never known anything about baseball, so they could learn the game like we did. I guess the only regret I have in life is I didn't get the opportunity to pitch in the major leagues. But I'm not bitter about it. I've had a good life…"
Doug Krikorian can be reached at doug.krikorian@presstelegram.com