Febuary 4, 2005
Sourced from pitch.com
Originally published by The Pitch Feb 03, 2005
©2005 New Times, Inc. All rights reserved.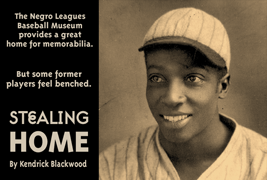 Stealing Home
The Negro Leagues Museum provides a great home for memorabilia. But some players feel benched.
BY KENDRICK BLACKWOOD

John Holway remembers the interview he did with James "Joe" Greene.

It had to be around 1970. It was summertime. They sat on the screened-in porch outside Greene's suburban home in Stone Mountain, Georgia, with Holway's reel-to-reel tape recorder running. Greene wasn't a classic storyteller like Satchel Paige or some of the other Negro Leagues players. He just recounted, simply, his version of one of the greatest moments in baseball history, a moment that Buck O'Neil would describe on Ken Burns' documentary on baseball years later.

In 1942, O'Neil was the first baseman and Greene was the catcher for the Kansas City Monarchs, which also included the legendary Paige. The team had earned its way into the Negro League World Series against the heavily favored Homestead Grays.

The Grays included a legend of their own in slugger Josh Gibson, a one-time teammate turned friendly rival to Paige. With a man on base, Gibson was due to be the third man up. To the frustration of his team and the amazement of the crowd, Paige walked the next two batters in order to pitch to Gibson with the bases loaded.

Paige then proceeded to throw three fastballs, strikes, boldly announcing each one before he let fly. After Gibson watched the third strike, Paige walked off the mound in triumph.

But no one will get to hear Greene's version of the story or 59 other interviews Holway recorded between 1969 and 1985, because Holway entrusted them to Kansas City's Negro Leagues Museum.

Holway planned to write a book but was distracted by another project. He figured the museum might get some use from the tapes, so in 1993, he mailed them to Kansas City.

"They accepted them on loan. They signed for them," he says.

Holway had been a museum supporter and agreed to be listed on the board of directors. He didn't attend meetings and hasn't spent much time here since then, but Holway has a reputation as a respected baseball scholar. "Maybe my name helped," he says. "I hope so."

Years later, when Holway was ready to do something with the interviews, the museum couldn't find them. The tapes had vanished.

Holway says the museum has lost an irreplaceable oral history of the Negro Leagues that made heroes of the African-American athletes who were shut out of major-league baseball until Jackie Robinson suited up for the Brooklyn Dodgers in 1947.

"We don't have any record that would indicate we received the tapes that John says he loaned to the museum," says museum attorney Thomas Busch. "We don't have any minutes. We don't have any staff who remember."

Holway is suing the museum for $1.25 million, a figure that may be low. Negro Leagues baseball is today a hot commodity.

"I'm trying to be as amiable as I can. I'm not trying to hurt the museum," Holway says. "I can't just let them lose my tapes like that."

Holway wonders if the box was misplaced when the museum moved across the street to its new space in 1997. He also wonders if someone took the tapes.

That's what the museum alleges. They've responded to Holway's suit with a court filing of their own, pointing the finger at a man named Larry Lester.

Lester denies taking the tapes. But the museum's accusation against him is an ironic footnote to the history of the institution itself. Lester may have done more than anyone else to get the museum started.

The lawsuit only underscores the bitter, 10-year split that has divided Lester from the museum he helped create.

Lester remains one of the most respected Negro Leagues researchers, particularly among many of the former players themselves. But his long feud with Kansas City's museum raises questions about what role the institution should play in preserving, interpreting and marketing the Negro Leagues. Critics, including Lester, say the museum could be doing more not only to attract visitors to its 18th and Vine exhibit hall but also to advocate for former players and promote new research.

The museum is a terrific experience for first-time visitors. But should it strive to be more?

Should it instead be more like Larry Lester's Raytown basement?

The cream-colored rooms beneath Larry Lester's unassuming south Raytown home are a civic treasure. They hold a bank of file cabinets with a manila folder for most every Negro Leagues player who ever picked up a bat. The files, however, are superfluous compared with what's in Lester's head.

Try him. Pull out a file, any file, and read the name.

Goose Tatum?

"He played for the Indianapolis Clowns."

Lester recounts that Tatum played first base during the 1950s but was more famous for his years with the Harlem Globetrotters basketball team.

How about Curly Williams?

He played outfield for the Birmingham Black Barons in the 1940s. "He's still around. He lives in Florida -- Sarasota, Buck's hometown."

George Talliaferro?

He was a black quarterback with a football team called the New York Yanks in the 1950s. "I don't just do baseball."

Lester might know more about the Negro Leagues and their players than anyone else. He's certainly among the top five scholars. In addition to the basement files, Lester maintains a database of Negro Leagues box scores that he works on through a contract with the National Baseball Hall of Fame in Cooperstown, New York. Lester rents a storage facility for the overflow of files, photos and memorabilia collected over 30 years of research on the Negro Leagues.

Lester began researching the Negro Leagues as a college student in the early 1970s after attending Central High School with Satchel Paige's daughter.

He started reading game stories and box scores from old issues of The Kansas City Journal-Post. He was overcome with emotion at the glory days that had been -- days he'd never heard about before. Reading about a spectacular outing of pitching and hitting by "Bullet" Joe Rogan, Lester mourned the fame denied the man because of baseball's color barrier. "I'd break down crying in the library," he says.

Lester grew up, married and took a job at a communications firm in town, but he never gave up that first love. He devoted his evenings and weekends to the Negro Leagues. He read every book he could track down about the athletes, which until recently wasn't many. And he poured dimes into the library's copy machine, returning with long-forgotten box scores from Kansas City Monarchs games.

Lester joined the Society for American Baseball Research, renowned for the dedication of its members, whose fascination with baseball statistics approaches a kind of religion. Lester planned his vacations around baseball seminars and conventions to meet and talk to the handful of other people with the same fixation on the Negro Leagues.

Horace M. Peterson III could hardly have found a more interested and energetic person to recruit to his cause of bringing a Negro Leagues baseball museum to the city's all but abandoned 18th and Vine district.

Until he died in 1992, Peterson ran the Black Archives of Mid-America from an old fire station building just south of 18th and Vine. He frequently sought meetings with civic stalwarts or newcomers, sometimes with an agenda, sometimes just to chat.

Emanuel Cleaver has credited Peterson with proposing a revival of the 18th and Vine district. As a city councilman in 1989, Cleaver pushed through a plan to carve off $20 million in city sales-tax money to fund the project.

"Horace had vision," says Lloyd Johnson, who then was executive director of the Society for American Baseball Research. "This was one of his visions that other people bought into."

Along with Lester and Johnson, Peterson reached out to Kansas City Councilman Charles Hazley, Little League coach Don Motley, then-Mayor Dick Berkley, former Monarchs player and manager Buck O'Neil and Negro Leagues researcher Phil Dixon. Johnson remembers that the timing of the first meeting corresponded with a holiday visit of hometown boy Tom Heitz, who was the librarian at the Baseball Hall of Fame.

Johnson recalls that Peterson reminded the group about Cleaver's $20 million and said that a Negro Leagues baseball museum could benefit from some of that money. Peterson would hold another meeting around the same time with people he believed would be willing to crank up a jazz museum.

Johnson himself had worked for Heitz at the Baseball Hall of Fame as a senior research associate. He says he, Lester and Dixon became the frontmen for the project. Their initiative was rewarded early as word circulated through the insular community of baseball researchers. "From the very beginning we were getting phone calls from unusual people asking what was going on," Johnson says.

The idea grew legs locally as well. "We hit a nerve in the black community," Johnson says. "It was the nonrecognition nerve."

They soon realized they had outgrown their host.

"A year later, Horace was still talking about the vision," Lester says. "Where's the business plan?"

They decided to break off on their own.

"Larry and Buck and I had a phone conversation late one night, and we decided to go it ourselves," Johnson says. "We just saw that the museum was bigger than the Black Archives."

They found Busch, a lawyer who also was a member of the Society for American Baseball Research and had worked with Johnson. Busch would write up the articles of incorporation and a business plan and usher the new entity through the process of becoming a nonprofit organization.

The idea didn't just resonate in the black community. Convincing some of the traditional donors in town proved to be easier than expected. Lester confesses that he's "not much of a salesman." But it didn't take a hard sell. "We got $20,000 from Hallmark. We got $10,000 from Sprint," Lester says. "We were off and running."

They weren't flush, though. They took turns paying rent on a small office in the Lincoln Building on 18th Street, across from where the museum now resides. But they began to accumulate memorabilia. Some of the items came unsolicited. Others they sought out. Rather, Lester did.

Lester traveled to Indianapolis to track down Anna Bradley, niece of the great Oscar Charleston. A player with power and speed, Charleston had suited up for several teams between 1915 and 1941, including the Lincoln Stars, the Indianapolis ABC's, the Chicago American Giants and the Pittsburgh Crawfords. Although he'd never played in the major leagues, he was voted into Cooperstown.

"He was the greatest player ever," Lester says. "As good as Willie Mays."

After visiting Bradley, Lester negotiated the purchase of Charleston's Hall of Fame plaque for the museum and returned home with a briefcase full of mementos.

Then a call came that would change the hand-to-mouth fortunes of the venture.

Starter Company, which made jackets and sportswear, called the organization with a proposition. The company offered $25,000 if the museum would authenticate the designs being considered for replica Negro Leagues apparel.

"I came up with a really good idea," Busch says, chuckling. He recalled that the Smithsonian Institution had earned money by allowing its name to be used by a toy company that was making replica dinosaurs. Busch realized that the museum could do the same for replica Negro Leagues jerseys and hats.

More than 200 teams played Negro Leagues ball at some point. Some had lasted a year, others 20 years.

They decided to research the top 50 teams and then put together a design notebook and a hangtag promoting the museum. The research fell to Lester.

"Larry was crucial and critical to that development process," Busch says. "He was the researcher and historian."

Though Starter ultimately snubbed the men, the museum sold its first license to American Needle Cap Co., bargaining for a 5 percent commission on the wholesale costs of the merchandise.

The museum had caught a wave of nostalgia, and the money started rolling in. Their first year's royalties were about $150,000, Busch says.

"We had this big fad reaction to the Negro Leagues," Busch says. "It was a wild and woolly time."

All of the actual teams had gone out of business by the early 1960s, and legally, the Negro Leagues Museum had no more claim to the team names and likenesses than anyone else did. But in a strange twist of fate, the Monarchs had survived.

A man named Ted Rasberry bought the team in 1955, the year the major league A's came to Kansas City. Rasberry moved the Monarchs to Grand Rapids, Michigan, where they evolved into an exhibition league and baseball camp.

"This guy still owned the trademark to the Kansas City Monarchs," Busch says, explaining their surprise. Busch negotiated with Rasberry for rights to the team name. They would later learn that the Indianapolis Clowns, Hank Aaron's first team, had survived in a similar fashion.

By controlling those two team names, the museum brought order to a confusing retail landscape, Busch says. Manufacturers were almost happy to pay the fee to get some assurance that they were making and selling legitimate products.

One of the early licensees was Major League Baseball, which proposed managing the licensing program for the museum. The idea was rejected by the museum, in part at Lester's insistence.

"Aren't you taking advantage of the people you kept out?" Lester recalls asking.

"They were the reason for the Negro Leagues," Busch says. "For them to make money from it is completely nonsensical."

Baseball relented and returned with a pro bono licensing deal that would pay 30 percent of the profits to the museum, 20 percent to the Jackie Robinson Foundation and 50 percent to the surviving former Negro Leagues players through the Negro Leagues Baseball Players Association.

But the early sales boom didn't repeat the second year. Negro Leagues products weren't selling as well as had been hoped. Discovering why involved a crash course in marketing. The problem was that the caps and jerseys were exact replicas. Like the originals, they were plain, with the team name -- Monarchs or Crawfords -- printed across the chest. Modern consumers weren't used to plain. Busch says a manufacturer explained to him that people were accustomed to seeing logos on their sports apparel.

"Unfortunately, these teams didn't have logos," Busch says.

Seeing an opportunity, the museum crew hired a design firm to work up retro-looking logos for 16 teams.

"It was property we were able to own exclusively ourselves," Busch says. "These things were well-received and utilized immediately and pretty quickly became the standards."

Negro Leagues merchandise would make the transition from authentic to fashionable, on the way earning a following among the hip-hop generation.

Though revenues have fluctuated, the museum's share has averaged about $200,000 a year since 1996, which has helped to stabilize the museum's financial footing. And it has allowed the museum to look for a full-time staff.

In 1993, Don Motley became the museum's full-time director. Johnson had left to go back to making real money again.

Motley was retired from the United States Postal Service after serving as an Equal Employment Opportunity Commission investigator. His brother had been a Negro Leagues umpire. And Motley had spent decades coaching youth baseball.

"This guy had all kinds of contacts, and he was willing to use the contacts to publicize the museum," Johnson says. Johnson gives Motley credit for running the museum more like a business than a grand experiment.

Motley says he realized there were no systems in place, that there was no supervision of what Johnson and Lester had been doing. Even the checkbook was treated as community property.

"I had a budget with no control," Motley says.

Motley didn't even know what was coming in the mail.

"The museum was listed under the P.O. box of Larry," Motley says. "Everything was going to his box."

Motley had the books audited and installed new procedures. Motley says the changes caused friction with Lester, who he says would have resented anyone in that job.

Lester says his problem was with Motley himself. "I think the man is totally incompetent," Lester says.

Johnson, a relatively neutral observer, says the problems between the two were a sort of natural evolution for such an endeavor. "The dynamics it takes to conceive and start and push a project are not the same dynamics that it takes to run it," Johnson explains.

And the museum had gone from being a prayer to becoming reality, with actual resources to fight over. "Now they have something, the bickering starts," Johnson says.

Busch says Lester was naturally protective of something he had worked so hard on.

"This was Larry's baby in a way," Busch says. "He created it. He put his blood, sweat and tears into it. Larry was a critical, key player and [a] reason why the museum got created and we successfully got off the ground. Don came on, and he's full-time executive director."

Lester's greatest beef with Motley and the current museum administration has to do with the surviving players. Lester has long thought the museum was neglectful of the aging men who played for the New York Black Yankees and the Chicago American Giants.

Oscar Charleston's niece was not the first or last family member of a Negro Leaguer whom Lester would correspond with. He calls former players regularly. He sends updates on his projects. And when the time comes, he attends their funerals.

Motley insists that he and his staff also have fostered good relations with the former players. He explains that he has been an advocate for them when major league teams or other groups call looking for former players in their towns. Motley says he insists that the men be offered a stipend for their appearances. "I don't want these players taken advantage of," he explains.

But Motley is not as close to them as Lester is.

"No one will ever treat the players as well as Larry, in Larry's opinion, or maybe in reality," Busch says. "Larry loves these guys, which is fine."

Lester says the difference became apparent in the planning of a 1995 reunion in Kansas City. By then, the museum had set up a compact exhibit of photos, text and memorabilia in the Lincoln Building. And though it was behind schedule and controversial, the $20 million redevelopment was finally under way. Construction would begin by the end of the year on a museum complex with space for both the Negro Leagues Museum and the International Jazz Hall of Fame and Museum.

The reunion was to recognize the 75th anniversary of the founding of the first African-American baseball league, the Negro National League, which was chartered by representatives of eight teams in the Paseo YMCA Building on November 20, 1920.

Lester says he was the one who insisted that the museum offer transportation and lodging for each of the 250 former Negro Leagues players and their spouses or other guests who were invited to the event.

"I had to fight to get it [the museum] to pay their way," Lester says. "It was incredible.... Don was totally against it."

Motley counters, "I was 100 percent for it."

It was about the last decision that Lester would make on behalf of the museum. He resigned in July 1995. He was gone by the time the reunion occurred.

By all accounts, the reunion was a success -- an occasion filled with warm hugs and big smiles and teary eyes.

"I think that was the greatest thing I've ever been a part of," says Joe Henry, a former Negro Leaguer from St. Louis who pitched with teams in the 1950s. "I was so ecstatic, I didn't know what to do. It made cold chills go all over me.... It was a feeling that did not leave me after I left there."

The reunion awakened something within Henry.

"The pride was already there. All we needed then was the Negro Leagues Baseball Museum to uncover or unravel all the rest of that greatness," he says. "Because the word was out then.... If anybody says they are a former Negro Leaguer, hey, people stop to listen."

Lester says the reunion awakened something in many of the players.

"It was the first time they saw their names in lights," Lester says. "They were asked to sign autographs. It was the first time they realized they were part of American history.... It was the first time they were able to sit at a table with Willie Mays. This was the highlight of their lives."

But it also awakened them to something else.

"They saw merchandise being sold," Lester says. "They sold a lot of hats and shirts.... They saw people making money off of them."

Museum officials were not sorry to see Lester go.

"Larry Lester is pretty unique, but he's not totally unique," Busch says.

James A. Riley, author of several books on the Negro Leagues, lives in Georgia but is on call to field research questions as the museum's ad hoc research director.

Dixon, researcher and author, lives in Kansas City and may have a collection to rival Lester's. "Larry Lester does have a lot of things," Dixon says. "I doubt if he has much I don't have. I probably have more."

Dixon may have played a role in ushering Lester out. He tells one of two versions of a story that is supposed to illustrate how Lester considered himself more important than the museum itself.

In Dixon's version, Lester was intentionally slighting and undermining him as the museum was being assembled. He says Lester left him off the museum's letterhead and cut him out of a promotional photo. So Dixon called for a meeting with Lester, O'Neil and Motley.

During the conversation, Dixon says, Lester resented the questioning and cut the meeting short with what sounded like a threat: "I could close this museum in five days."

The other story is told by Buck O'Neil himself.

"Larry was acting selfish. Larry wanted to be the man," O'Neil says. "When I told Larry I didn't want him, Larry told me he could close the museum in 30 days."

Lester doesn't recall making that claim.

Lester may have been important to the museum's infancy, but up against O'Neil, there was little question who was going to survive.

O'Neil has devoted the past 15 years of his life to building and protecting the museum. He still travels extensively to support the museum, specifically to build an endowment that will help it survive. He's become the face of the Negro Leagues.

But some former players feel he's turned his back on them, says Dennis Biddle, who played briefly during the waning days of segregated baseball and has founded a player-advocacy group called Yesterday's Negro League Baseball Players Foundation.

"We got a lot of calls from the players not satisfied with the museum," Biddle says. In particular, Biddle says he hears complaints about how much attention O'Neil gets while they are ignored. "They say, 'I saw Buck on television.'"

Herman "Doc" Horn Jr., a former Monarch who still lives in Kansas City, confesses similar feelings. "Everything is O'Neil. O'Neil this, O'Neil that," he says.

O'Neil has never had much patience for grumbling. Asked about the players who feel slighted, he reaches out a hand, gnarled and veiny but softened by the half-century since he has swung a bat with any purpose.

"The players from back in my day, none of those players are complaining," O'Neil says.

And just like that, O'Neil cuts off debate by drawing a line in the sand. He draws a stark distinction between the great Satchel Paige and the players who came later, filling Negro Leagues rosters after Jackie Robinson's leap to the Dodgers. He draws a line between himself and Horn, who, after the death of Connie Johnson in December, is the only other surviving player to call Kansas City home.

O'Neil is 93 now. He joined the Kansas City Monarchs in 1938 and spent 17 years with the team, 8 of them as manager.

Horn is from a different era. Now 77, he stared his career in Springfield, Missouri, but didn't join the Monarchs as an outfielder until 1949. He remained with the team until 1954.

The museum is dedicated to preserving the memory of the entire history of African-American baseball, from the first barnstorming teams in the late 1800s to the last all-African-American team in the early 1960s.

But in truth, the museum is more interested in telling some of the stories than others.

"These guys after Jackie had a chance to play major league baseball if they were good enough," O'Neil says, casting some suspicion on the careers of anyone who played after 1947.

But O'Neil is not exactly right.

The major leagues didn't suddenly become integrated when Jackie Robinson signed with the Dodgers. In fact, it took more than a decade before all of the teams had hired even one black ballplayer each.

"Some teams were more flexible and liberal in hiring black players than other teams. It's like anything else. Even though they were allowed to integrate, some of them didn't," Lester says. "It was a gradual transition. Jackie left in 1959. What people don't understand is that when Jackie retired, there were still three teams that had not integrated yet. He had an 11-year career, and there were still three teams that never had black players."

If a late-period player like Horn is somewhat snubbed by the institution, however, the museum does make a big deal about another player who briefly played for a Negro Leagues team after Robinson's color-line crossing in 1947.

In 1951, Hank Aaron played for the Indianapolis Clowns for about three months.

A photo and letter recalling Aaron's brief participation in the Negro Leagues are among the museum's highlights. Midway through the journey in photos and memorabilia arranged around a baseball diamond adorned with bronze casts of the greatest Negro Leaguers is a copy of a black-and-white Polaroid blown up almost too large. Not a high-quality photo to begin with, the fuzzy print shows a 16-year-old Henry Aaron standing on the worn planks of a railroad boarding area with his hands behind his back. His long-sleeved shirt is buttoned to his neck. His trousers show the creases of a recent pressing. At his feet is the pale mound of a canvas duffel bag.

His shoulders slope away from his neck and give no hint of the power they could channel through a baseball bat.

Next to the photo is a copy of a letter dated November 29, 1951, from Clowns business manager Sunny Downs, complimenting Edward Scott on the acquisition of Aaron for the team. "That was a very good step on your part and I do think the boy will develop into a great player one of these days."

"The museum is a museum," O'Neil explains. "That's just what it is -- a museum."

Supporting the players, even with a small cut of merchandise sales, is not what the museum needs to do, he insists. But O'Neil's admonition rings hollow to some. After all, the former Monarch is getting his.

O'Neil has become a national celebrity through his starring role in Ken Burns' baseball documentary for PBS. He laughs now at how the production made him "an overnight sensation" at 82.

"There are some Negro Leaguers out there who think Buck has gotten a lot more than he should," says Bob Kendrick, the museum's marketing director. "Buck has put himself in a situation where demand for him is at an all-time high."

The rest of the surviving players, on the other hand, aren't much in demand. "Of those who are alive, maybe 90 percent played after 1955," Busch says.

They played long after the peak of the Negro Leagues, long after Robinson and Paige had moved on to the majors and "Cool Papa" Bell and "Double Duty" Radcliff had retired from the game.

"They are the guys selling, in respect, the Negro Leagues," Busch says. "The guys who are complaining, unfortunately, our licensees aren't interested in."

It comes down to a question of priorities.

"There's a tension of sorts," Busch says. "How is the money best utilized? Is it best utilized to support the museum, or is it best utilized to take care of the fortunate few who are still alive?"

Blame for some of the discord can be leveled at Major League Baseball, which had paid royalties on its Negro Leagues merchandise to almost all of the players through the Negro Leagues Players Association until about 1997, when MLB let the program run out.

Similarly, former Major League Baseball Commissioner Faye Vincent decided to distribute proceeds from his memoir, The Last Commissioner, to all surviving players. But to some, the checks, however small, served only to emphasize what the players weren't getting from the museum.

Although the museum has tried to stay out of an advocacy role for the players, Lester has repeatedly found himself in the middle of things. He helped research Negro Leagues careers as Major League Baseball was implementing a pension program for surviving players.

The pension program -- and a supplemental program -- became controversial as the Major League Baseball Assistance Team tried to decide who would qualify. But the museum remained silent on the matter.

"We made a conscious, early-on decision," Busch says. "We're a museum. We're not going to be a players' association. That's not what our 501(c)3 status allows us to be. We're not going to try to organize the players."

But the museum is taking on some of the tasks that Lester has long advocated. A new capital-raising campaign is set to begin for the renovation of the vacant Paseo YMCA Building as a research and education center with administrative offices.

The 1914 building has been vacant since the 1970s. The city allowed the museum to buy the building for $35,000. And a $500,000 federal grant has helped to jump-start a $14 million project to build the Buck O'Neil Education and Research Center.

But the prospect of new facilities for the museum may come at the expense of the few remaining former players.

Motley says the museum may not be able to afford both a reunion and the new building campaign this year.

A second reunion held in 2000 involved only 150 players and their guests. A third event that would celebrate the 85th anniversary of the fateful meeting at the YMCA would likely draw even fewer.

But if the museum is losing some of its connection to living players, those old-timers know that Larry Lester, at least, will continue calling them and paying visits.