December 10, 2004
Article contents Copyright 2004 The Denver Post. All rights reserved. This material may not be published, broadcast, rewritten or redistributed for any commercial purpose. Reprinted with Editors permission.
Article Published: Friday, December 10, 2004
Big-time win for Negro League players

Stats cover the bases, shed light on careers

By Robert Sanchez
Denver Post Staff Writer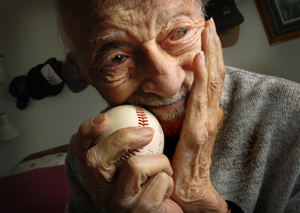 Post / Glenn Asakawa`
Former Negro Leagues player Byron Johnson, 93, holds a baseball given to him for his 90th birthday. The Denver resident played shortstop for the Kansas City Monarchs.
Unlike his aging body, the black-and-white photograph that Byron Johnson keeps in his Denver apartment is virtually flawless.

No bends or folds. No wrinkles that come with age.

The picture - 14 young, black men dressed in Kansas City Monarchs jerseys - was taken before a game in 1939, eight years before Major League Baseball's integration.

Johnson, now 93, is the small guy with the hat pulled low over his forehead. Front row, on the left.

"That picture makes me feel mighty good in here," Johnson, the oldest living Negro Leagues baseball player in Colorado, says as he taps his chest. "Especially after all we went through."

Sixty-five years after that photograph was taken, a special research project is giving new life to those anonymous faces.

The work, a three-year, first-of-its-kind project funded with a $250,000 grant from Major League Baseball, used thousands of newspaper box scores to identify and compile statistics on more than 3,000 men who played in often-forgotten black baseball leagues from 1920 to 1948.

The 5,000-page volume - which shows more conclusively that the quality of Negro Leagues play equaled white baseball at the time - is more in-depth than past statistical studies on black players prior to integration.

The research will be given later this month to the National Baseball Hall of Fame and Museum in Cooperstown, N.Y.

Eventually, it will become part of the hall's statistical and narrative history of black baseball since the Civil War.

"This isn't just about baseball and numbers, it's about how this game related to society at the time, how baseball was such a rich part of black culture," says Jim Gates, the Hall of Fame's library director who wants the statistics published.

"At the same time, having these statistics is going to make it easier to argue about the greatest players of all time," he says. "It has brought the comparison between Negro Leagues and Major League Baseball from apples to oranges to McIntoshes versus ruby reds."

While historians undoubtedly will debate the merits of 60-plus-year-old box scores found in 570 newspapers across the country, former players say the research validates careers that so far have been only a footnote in American history.

Negro Leagues play continued through 1960, featuring six leagues during its 80-year history and more than 100 teams - from Kansas City, Mo., to Birmingham, Ala., all the way to Philadelphia and New York.

The leagues were salvation for black athletes during a time of segregation and outright racism. The biggest draws were flamboyant players such as pitcher Satchel Paige, who sometimes purposely walked the bases loaded, only to strike out the next three batters.

The teams and the players are an often-romanticized, sometimes-satirized yet tragically little-known piece of Americana.

But these days, only 300 or so former Negro Leagues players are alive to retell their baseball tales.

Stories abound about the exploits of the "Black Babe Ruth," Josh Gibson, who is said to have hit 800 to 1,000 career home runs, including a ball that flew out of Yankee Stadium.

And there was Cool Papa Bell, who was so fast that he once scored from first base on a bunt.

But because so little of the on-field play was recorded, separating Negro Leagues myth from statistical fact has been difficult.

That is, until now.

"All we've wanted is to be recognized for what we did. You know, make sure every guy gets his due," says Buck O'Neil, 93, a former player and coach who is chairman of the Negro Leagues Baseball Museum in Kansas City, Mo.

"We don't want Hollywood stories told about us," he says. "We want the truth."

Open for debate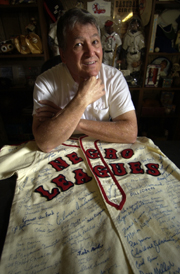 Post / Hyoung Chang
Wayne Stivers visited dozens of cities and combed through hundreds of newspapers in his quest for box scores.
Most every morning at his Evergreen home, Wayne Stivers pulls his body from bed, turns on his basement computer and saves black ballplayers' careers one keystroke at a time.

Stivers, 65, will flip through hundreds of photocopied box scores that he keeps in a neat pile.

He will trace his index finger down scores and game statistics roughly the size of a felt pen's tip, methodically recording each hit, error and run on a yellow notepad. He will then transfer the information to a database made especially for his project.

One million statistical lines. Nearly 3 million different data entries covering 29 seasons.

"You could go blind doing this," says Stivers, a retired sports memorabilia dealer who volunteered for the work in 2001 and now carries a magnifying glass to study the scores. "It's harder than anyone could imagine."

In a way, Stivers and the rest of the men in the Negro Leagues Researchers/Authors Group are trying to perfect an imperfect system.

The men have lived out of hotels and libraries from Indianapolis to Washington, D.C., modern-day gold miners sifting through muck for their treasure.

When Stivers heard that Gibson hit four home runs during a game in Zanesville, Ohio, he traveled to the town and found a story in newspaper archives. The paper confirmed Gibson's feat.

The ultimate reward in his post-retirement work, Stivers says, was getting pieces of information that could change views about black baseball.

From Negro Leagues hyperbole: Paige - a showman long considered the best black pitcher of his time - actually had several peers.

To confirmation: Bell did score from first base on a bunt at least once.

To legend: Gibson, the slugger, might have hit only 200 home runs - not 1,000 - during his Negro Leagues career.

The statistics confirm, though, that Gibson is one of the top home run hitters in baseball history when averaging the number of at-bats per home run.

"I was blessed to have played with some of the greatest players ever," says Johnson, the Negro Leagues player from Denver.

Johnson was a shortstop in the 1938 East-West All-Star Game, played against Gibson's teams and learned to hit a curveball from Hall of Famer "Bullet" Rogan.

"Some of those critics never wanted to believe that we were as good as whites," he says. "We knew better."

Even with the statistical work, players' career numbers are hardly complete. Roughly 75 percent of the box scores have been found.

Among a host of problems, Negro Leagues box scores from the 1920s, '30s and '40s didn't always record at-bats, batters who got walks, pitchers who got wins and how many innings they pitched.

Earned runs - runs scored without the aid of errors - had to be painstakingly re-created through a complicated formula that took into account average errors and runs per game. Walks and total bases - a marker of hitting ability - also had to be reconstructed at times.

"There will be holes, but every day we're trying to patch them," says Larry Lester, a Kansas City computer programmer and Negro Leagues author who is one of the research group's leaders. "Something new pops up all the time. I guess that's the fun of it."

Another technique that will probably be questioned is the group's strict rule limiting statistical research only to Negro Leagues games. The limitation omitted thousands of "barnstorming" matches between black clubs and smaller, less-talented semiprofessional teams across the country.

Regular Negro Leagues schedules had only 60 to 80 games, in part because players made more money barnstorming en route to their regular games.

"Back East, we'd play three games in one day," says O'Neil, the former Negro Leagues star. "No one should take those games from us."

But researchers such as Stivers and Lester say the games are nearly impossible to find and could lead to inflated statistics, such as Gibson's often-repeated 800-1,000 home-run tally.

"There's no way that this cheapens anything that these men have done," Lester says. "If anything, it makes them more real and kicks out all those stories that made the Negro Leagues so hard to believe for some people.

"They were pioneers, and that can't be refuted."

"Still got it"
Baseball in Byron Johnson's mind is played out through months, not innings.
Time and again, the former shortstop can feel the gritty rawhide baseball at the tips of his fingers. Time and again, he unleashes it with such force that he hears the sizzle, then pop, in the first baseman's glove.
The scene is played over and over in his freckled head.
Bend. Grip. Throw. Sizzle. Pop.
"Boy, I could move. Left, right, in, out," Johnson says, bobbing his withered shoulders from side to side. "My teammates said I was such a good fielder that I could have grabbed the ball with my damn teeth."
A widower, Johnson shattered his hip two years ago, putting him in a bed or a chair much of the time.
His eyes once were clouded with cataracts. He can barely hear.
But he insists that his fingers, those bony pieces of loosely wrapped flesh, can still feel that rawhide ball.
For a 5-foot-6-inch man, he has the thick, long hands of a person a foot taller.
QUICK HITS
Josh Gibson was the pre-eminent slugger of his day. Researchers at times have credited the catcher with 800 to 1,000 home runs in his career, placing Gibson as the greatest long-ball hitter of all time.
New Negro Leagues research found that Gibson probably never hit more than 200 home runs in league play - though typical seasons were about half as long as major-league schedules.
Here's how Gibson ranks among some of the best sluggers in baseball history, dividing total at-bats by home runs. Career home runs are in parentheses, followed by the ratio of home runs to at-bats.
Mark McGwire (583) 1:10.6
Babe Ruth (714) 1:11.8
Barry Bonds* (703) 1:12.9
Harmon Killebrew (573) 1:14.2
Ted Williams (521) 1:14.7
Mickey Mantle (536) 1:15.1
Josh Gibson# (200) 1:15.9
Hank Aaron (755) 1:16.3
Willie Mays (660) 1:16.4
Frank Robinson (586) 1:17.1
* Active player
# Home-run total is an estimate based on available box scores
Books
on the Negro Leagues:
"Only the Ball Was White," by Robert Peterson
"The Negro Leagues Book," by Dick Clark and Larry Lester
"Josh Gibson," by William Brashler
"I Was Right on Time," by Buck O'Neil, with David Conrads and Steve Wulf
On the Internet:
National Baseball Hall of Fame and Museum - www.baseballhalloffame.org
Negro Leagues Baseball Museum - www.nlbm.com
Negro League Baseball Players Association - www.nlbpa.com
- Robert Sanchez
"Throw me that ball," Johnson asks a visitor sitting in his bedroom - a moderately decorated place with a Monarchs hat on the wall and baseball books on a nightstand.
The visitor complies, lobbing the ball. It falls feebly to the floor.
"One more time," he says.
Another toss, the ball hangs for a second and is snatched in midair by Johnson's oil-softened hands.
"Still got it, boy," he says with a laugh.
Johnson started with the Monarchs nearly seven decades ago, talked out of his home in Little Rock, Ark., into a contract with the greatest black baseball team of all time.
He played professionally for four years and was drafted into the Army during World War II.
The rest of his story is a whirlwind of marriage, children and teaching jobs. He moved his family to Colorado in 1958, one year after his niece, Carlotta Walls, received death threats when she helped integrate Little Rock Central High School.
But it's Johnson's baseball memories that are freshest in his mind.
He often thinks about that all-star game back in 1938 when he walked into Chicago's Comiskey Park.
He stopped on the field that day, took a deep breath and wished that he would never forget the moment.
And he hasn't.
Johnson knows he is a fading breed, that's why all the people come to talk to him. The authors, the students, the researchers who want to grab one last interview with a living Negro Leagues player.
But Johnson says he's the one who gets the most benefit from those talks. All those games, all those people, all those memories come rushing back to him.
"These days," his daughter says, "Dad just wants to talk baseball."
Staff writer Robert Sanchez can be reached at 303-820-1282 or rsanchez@denverpost.com .