Alex Pompez
ALEJANDRO 'ALEX' POMPEZ
Alejandro 'Alex' Pompez, a black Cuban American who owned the New York Cubans for the duration of the Negro National League. He also served as Vice President of the Negro National League.

Pompez was at one time a "numbers broker" and one of the wealthiest men in Harlem, but by the 40's had "gone straight" and concentrated on his New York Cubans. In 1947, the New York Cubans won the Negro World Series, but Pompez could see the writing on the wall, and realized that the Negro Leagues had seen their best days.
The following year, he arranged for his Cubans to be a farm club for the major league New York Giants. Giants owner, Horace Stoneham tapped into Pompez's knowledge of the Caribbean, and was able to sign many Latin players such as Orlando Cepeda, Pedro Ramos, Camilo Pascual and Tony Oliva through Pompez.  One player that eluded Pompez's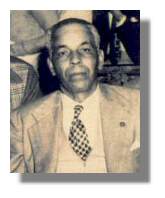 scouting efforts - on June 7, 1950, Alex Pompez submitted a report recommending the signing of a right-handed pitched named Fidel Castro!
Alex Pomez has been elected to the Cuban Baseball Hall of Fame and was a member of the Hall of Fame's special committee for the Negro Leagues.